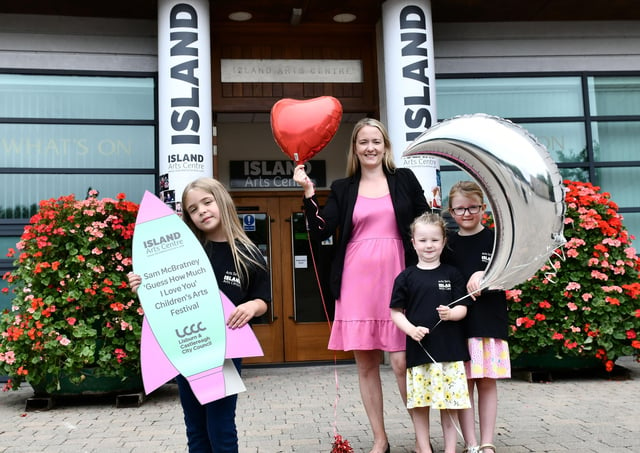 Councillor Sharon Skillen helps to launch this year's Island Arts Centre Children's Festival
Let your imagination out to play this August and join in the fun with one of Northern Ireland's most loved children's events which is inspired by one of the world's best-selling picture books 'Guess How Much I Love You'.
The book was written by the late Sam McBratney, a children's author from Lisburn and has sold more than 30 million copies.
Commencing on Monday August 9, the festival features an Arts Academy, family workshop experiences and unique activities that will ignite children's imaginations. Further events are also planned for Autumn, which we all know is Nutbrown Hare's – the book's lovable character - favourite season.
Speaking about the upcoming festival, Councillor Sharon Skillen, Chair of the Leisure & Community Development Committee, said: "The Sam McBratney 'Guess How Much I Love You' Children's Arts Festival is a wonderful opportunity for us to celebrate one of our own, a local Lisburn man, who brought some of literatures most cherished children's books into being.
"Like Sam's book, the festival is dedicated to children and their natural curiosity and helps us to put the social into staying local, especially as entertaining the kids over the summer months can be challenging.
"We are looking for young people aged 4 -13 years old to join our new ideas lab where they will work together with professional artists, experiment and experience a myriad of creative opportunities and best of all, develop confidence and make new friends at the festival's Arts Academy!"
This week-long activity is perfect for parents and carers. It will run from 10am to 4pm, Monday 9th to Friday 13th August, with optional wrap around care.
Activities will include pottery workshops, watercolour illustration, junk art, hare-themed willow-sculpting and bunting workshops, print-making, dancing, music, performance and craft.
Parents have peace of mind too, knowing that all festival events are designed to be COVID-19 compliant and bring together a range of energetic professional artists who specialise in working with children and young people.
Activities are grouped into small appropriate age bands or family bubbles to enable children to work closely with our artists in a safe, socially distanced environment that are individually tailored so that no two days are the same."
For those seeking the perfect daycation activity, the Island Arts Centre is offering a pop up pottery experience for families, 'All in a Glaze', including a story-reading of the world famous book 'Guess How Much I Love You'.
Ready to paint plates will be waiting for you to stamp, stencil and turn into a one of kind family masterpiece personal to you. No experience is necessary and Island Arts' friendly professional ceramicist will demonstrate a range of handy techniques to ease you into the activity. Island Arts will then fire your creation in our kiln for you to collect when completed.
You could also choose to top and tail your visit by exploring Island Arts' Xplorart Sculpture Trail or take a stroll down the Lagan Towpath to see if you can spot Nutbrown Hare.