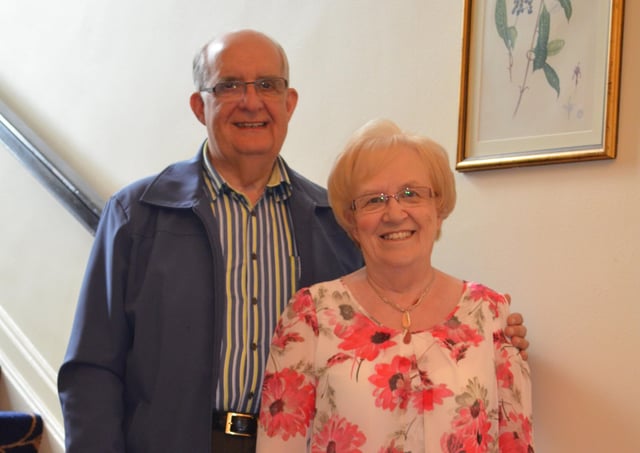 Norman Christie with his wife Doreen
Suddenly, out of nowhere the life of a family was changed. This past year with so many deaths with Covid-19 families are hurting, Norman, a former Pastor at Lisburn Elim, has released 'A Life Lived With Love', a book full of reflections and poems on how God took him on a journey through bereavement.
Norman was born in 1940, the youngest of four sons. His grandfather was Richard Christie, a well-known successful painting contractor, who created the Christies' Wallpaper and Paints dynasty.
As adults, Norman's three brothers would pursue the family painting business. However, he had no desire to follow their example and, in his teens, decided to pursue a career in industrial chemistry.
Being conscious of God's call on his life to preach the gospel, he began preaching at age 17 in Bethesda, Belfast, Northern Ireland.
When he was not preaching, he was busy in children's Sunday school and youth work for the next 28 years.
Life took another priority when he met Doreen, the girl of his dreams. They were both 18 years of age and in 1964 they got married. (God blessed them with four wonderful children and now as adults they pursue a wide range of professional careers.)
Norman continued to pursue a career in chemistry, finally obtaining a position in the local BP Oil Refinery, where he worked in the laboratory for almost 20 years, becoming a senior technical assistant. While in that position he would pray virtually every day that God would open the door for him to enter ministry.
The opportunity he had been praying for arose unexpectedly in 1982 when the Oil Refinery closed, and he was declared redundant.
Instead of being down about the loss of a good paying job, Norman saw this now as the opportunity to apply for the ministry in the Elim Pentecostal Churches.
Consequently, at age 42 he was installed in Randalstown Elim Church as a trainee pastor with six members to care for.
Alongside Norman was Doreen and his musically gifted family who served with him.
Later he would pastor several more churches with his last church being Lisburn Elim Church, from which he retired in 2011.
It was five years after retiring that Norman and Doreen was enjoying a break when his wife for over 50 years passed away in Spain.
The shock of the passing, how to carry Doreen's body home, how to inform their children, etc.
Like the majority of people, Norman found bereavement devastatingly painful.
Yet, God spoke to him to and through his book instead of grieving, he learnt to celebrate Doreen's life.
Even though Norman had never written a poem before. God laid it on his heart to write when the pain was at its greatest and inspiration most profound.
Usually beginning on a sombre note, he always concluded with positive and uplifting words. The first poem he wrote, "GONE" was composed just a fortnight after Doreen's passing.
Now if he is not teaching or preaching in churches, he's writing a book.
For more information visit www.NormanChristie.com.