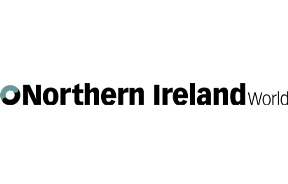 Robert, who is proprietor of the function rooms at the historic Lurgan venue, was as surprised as anyone when the location scouts from the BBC in England turned up following a conversation he had with Roy Gilpin at a family function in 'The Castle'.
The venue got the thumbs up and film crews descended on Brownlow House at the end of June for three days filming for BBC drama Nicholas Nickleby.
Robert explained how it came about. He said: "There was a family function in Brownlow House last year and this man who was at it came over and introduced himself to me. He was Roy Gilpin, a film producer from England, who was born in Portadown, but moved to England at a young age.
"He told me he was doing a film next year, now this year, and Brownlow House had some great locations for filming. He said it was going to be a modern version of a Charles Dickens classic.
"It was one of those conversation you don't think you're going to hear any more about, but then Kindle Entertainment showed up this year and explained that Roy had told them about Brownlow House as a set location."
The location scouts liked what they saw and filming took place on June 26, 27 and 28 inside 'The Castle'.
Robert, who rents the function rooms at Brownlow House off the trustees, continued: "The tea room was closed for three days for filming.
"They turned it into an up-market gentleman's club where they filmed about 10 scenes.
"They also used what we call the 'rent room' where Lord Brownlow would have collected the rent.
"They painted it and put curtains up in it so it looked like a quiet corner in the bar. It was all done with the permission of the trustees.
"They used heritage colours so we've been able to keep the room as they left it."
Robert and his team were on set as the filming took place and got to meet some of the local actors taking part including Adrian Dunbar, Bronagh Gallagher, Jayne Wisener and Andrew Simpson.
"The actors had done their homework. Adrian Dunbar was making jokes about the Lurgan Spade. They all said how it was such an amazing location and couldn't believe the size of the House and the park and how peaceful it was just two minutes from the town centre.
"The production company said they would be recommending the location."
The modern day take on the 1839 novel will be a five-part serial written by Joy Wilkinson to be aired as part of the BBC's autumn daytime schedule.
Double BAFTA-winning Kindle Entertainment are the production team behind the programme.