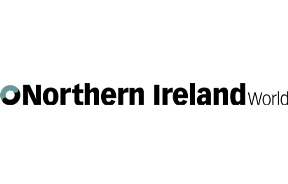 3rd class passenger and a member of the talented wardrobe team, Kate Porter, is carrying on a family tradition with her skilful needlework as her great grandmother carried out sprigging work for the 4,000 table cloths and 45,000 napkins on the Titanic.
Kate from Castlerock explained: "My great grandmother Annie Watson from Sixmilecross, Camowen, Omagh, was one of the many women who worked on the Titanic tablecloths and napkins doing Sprigging work ( embroidering on fine muslin and Irish linen).
"Sprigging was a home industries in which women employed their nimble fingers. A skilful woman who sprigged for a living and sat at her work all day until 10 o'clock at night could earn from 18 to 20 pence in today's money.
"Only a small percentage of our women followed sprigging for a living, only those who had no land and no other way of earning, and even they kept half a score of laying hens to help them.
"Most of the women took it up in the interims between household duties and after the day's work was over. The few shillings a week they earned kept them in dress and furnished the household with tea and sugar. A skilled sprigger would often be recognised at the fair, and at mass/church by a good dress and tasteful turnout."
As well as Kate appearing in Portrush Music Society's production of Titanic the Musical which runs until this Saturday (April 21st) in the Riverside Theatre in Coleraine, a sample of her great-grandmother's handiwork is also appearing on stage.
"In the foyer of the theatre, we are displaying samples of my grandmother's work showing the Sprigging done by her hand," said Kate.
"And we used one of her tableclothes in the Gala Performance which we held on April 14th, the centenary of the actual sinking of the Titanic, to connect us via my great grandmother's work directly to the Titanic."
A limited number of tickets may still be available for Titanic the Musical. Book now on www.riversidetheatre.org.uk or phone the Box Office on (028) 70 123 123.