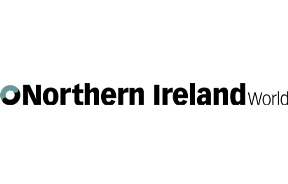 The 'Big Idea' is an innovative programme delivered by Advantage NI which helps young people to develop core skills and capabilities for enterprising and employability.
At a recent workshop held at the college, the students decided they would love to produce a cookbook on healthy eating, but recognised they needed to enlist the help of an expert who could provide tips on the best way to develop their idea.
NRC Lecturer Jennifer Young said: "We soon recognised that if we were to progress with this project and be successful in bidding for European funding from Youth in Action to achieve our goal that we needed an expert who had produced best selling cookery books and so I contacted Jenny Bristow."
To the surprise of the students, Ballymena's star celebrity and Ireland's good food Ambassador Jenny Bristow walked into the classroom, listened to their 'Big Idea' and delivered a masterclass on how to produce a cookbook.
During the class she told the students that "they had the makings of a great idea" and that they should try to enlist the help of local restaurateurs and food suppliers and ask them for their favourite healthy recipes, to insert into their cookbook.
Jenny added: "Anything to do with healthy food is great and if the students achieve their goal in producing this cookbook, who knows what they could develop next".