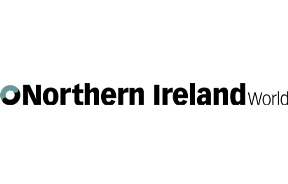 This is a change to the night on which the event is normally held, with the event now happening on a Thursday and not a Friday night.
The festive programme will see the magical Christmas parade weave its way from Christ Church Hall, through Bow Street, past the Irish Linen Centre, where the stage is situated and then back down through Market Street.
A host of vibrant and festive artists with large-scale art creations and Christmas pieces will be in the parade, as well as local school children who will be carrying their specially made lantern creations on the night.
Santa Claus will of course make an appearance to wish all the boys and girls a happy Christmas.
The Council has arranged workshops with the participating schools, where children taking part in the parade will be taught to make the lantern creations. The lanterns will then take pride of place on the night of the event.
The Right Worshipful the Mayor, Alderman William Leathem, with two local schoolchildren, will turn on the Christmas tree and lights in the City on the night.
He said: "This year I am delighted that Ballymacash Primary School Choir will be providing carol singing. It will bring a real Christmas atmosphere to Lisburn and I hope to see mums and dads, grandparents, friends and family come out and enjoy this feel-good family event in the City."
The event will begin at around 6.45pm, however, due to its popularity it is advisable to be in place around 45 minutes before this time, with the best viewing area for the parade being in Bow Street itself.
There will be road closures on the night while the Christmas Parade is enroute and this may affect access or delays for this time in and around Lisburn.