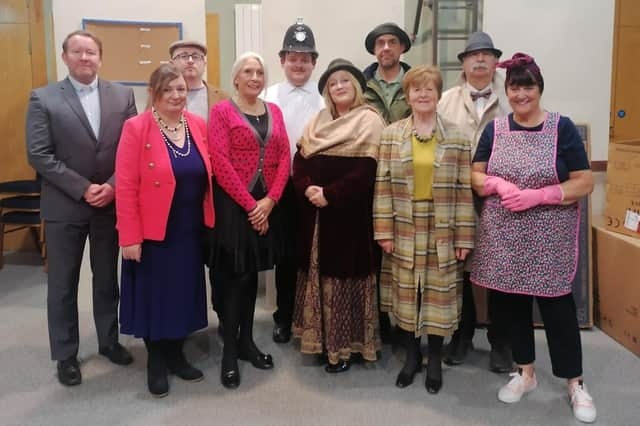 Larne Drama Circle presents 'Agatha Crusty and the Village Hall Murders'
Larne Drama Circle are back in action with comedy murder mystery 'Agatha Crusty and the Village Hall Murders' by Derek Webb.
Published 6th Nov 2023, 12:24 GMT
Agatha Crusty (pronounced Croosty and played by Alison McCubbin) is a crime novelist, who is also pretty adept at solving crimes.
So, when her sister-in-law Alice (Geraldine Scott-Heyes) invites her to spend a few days with her in the village of Chortleby, it's not long before she gets caught up in a series of murders which seem directed at the members of the All Saints Village Hall committee.
From Toby, the vicar (Jonathan Temples) and Eleanor, chair of the committee (Beth Alexander), to Harry Knott, the caretaker (Evan Morrow) and identical twins Olivia and Oliver Truscott-Pratt (Tristan Scott-Heyes) along with villagers Maisie, the cleaner (Rosie Williams) and local publican, Isabella (Alison Wylie) we are not short of suspects. Is local teenager Mandy (Rosie Scott-Heyes) as innocent as she appears to be?
With an investigating officer as incompetent as DI Twigg (Melvyn Goldberger) and his long-suffering assistant PC Lockett (Fred Gales), there are plenty of laughs as the murders pile up.
But, while packed full of wit and very funny scenes, this is also a genuine murder mystery with an ingenious plot which will tax the little grey cells of the audience at the same time.
Luckily Larne Drama Circle have had none of their cast "bumped off" during rehearsals and are all in fine form as they prepare to entertain with this hilarious "whodunnit".
Directed by Jay Alexander, 'Agatha Crusty and the Village Hall Murders' will be in the McNeill Theatre on November 15, 16 and 17.
Tickets costing £10 (cash only please) will be available from Larne Drama Circle's box office in Larne Leisure Centre on the following dates: Wednesday November 8, Friday November 10 and Saturday November 11 from 10am – 12pm and 2pm – 4pm, and on performance nights from 6.30pm.