Musical Society brings NYC to Banbridge with hit show 'Rent'
Rehearsals are in full swing for Banbridge Musical Society's production of RENT, which will run in the IMC Cinema, Banbridge from March 31 until April 4.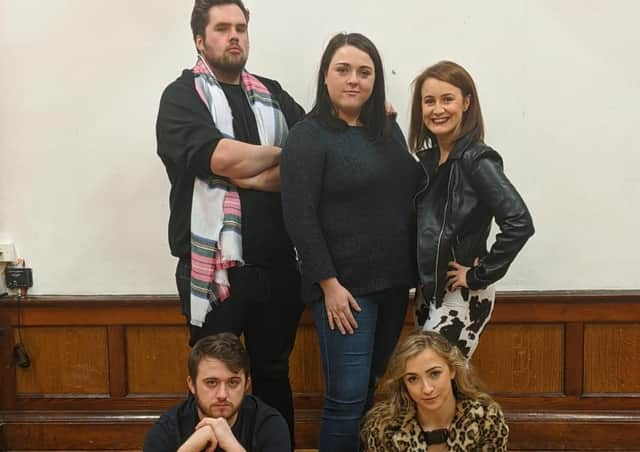 Back row (left to right) Ruairi McAlinden, Maille Connolly, Emma Kelly-McGuckin Front row (left to right) Jordan Walsh, Amber Dixon
RENT is set in New York City's gritty East Village, and this revolutionary rock musical is an imaginative retelling of the classic Puccini opera, La Boheme.
This unforgettable and timeless story of a group of starving artists, who, despite poverty and illness, learn to fall in love and find their voices, brings a universal message of hope for everyone.
The cast includes Jordan Walsh as Roger Davis, a songwriter who is HIV positive; Sean Harkin as Mark Cohen, an independent filmmaker and Roger's roommate; and Amber Dixon as Mimi Márquez, an exotic dancer with HIV.
Sean O'Neill and Daniel May
Daniel May, who will play the role of Angel Dumont Schunard, one of the show's most controversial and best loved characters, said: "I am so looking forward to taking to the stage with Banbridge Musical Society.
"Angel is such an iconic role, particularly for the gay community, and it is important that I tell her story well. This is a huge challenge for me as an actor and one I don't take lightly.
"Rehearsals have been a blast. The company has been so welcoming and everyone is so excited to take on something fresh and new. I really commend the society for having the guts to put on a potentially controversial musical."
The cast also features Sean O'Neill as Tom Collins; Emma Kelly-McGuckin as Maureen Johnson; Ruairi McAlinden as Benjamin 'Benny' Coffin III; and Maille Conolly as Joanne Jefferson.
The production team is composed of Director Ian Milford, Musical Director Niall O'Flaherty and Choreographer Jordan Rosborough.
Tickets are on sale now at www.gr8events.ie/banbridgems or by calling 07857 137011.