Watermelons at the ready - Dirty Dancing bursts onto the stage at the Millennium Forum
'Nobody puts baby in the corner', 'I carried a watermelon' – instantly recognisable lines from the iconic Dirty Dancing which burst onto the stage of the Millennium Forum this week.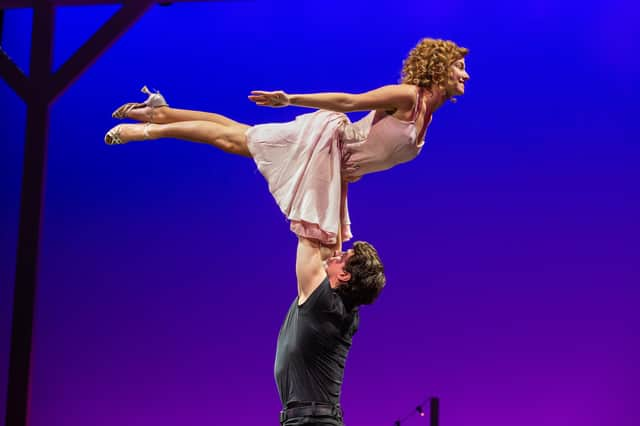 Fans of the 80s hit movie may be slightly sceptical when it comes to Dirty Dancing live on stage. How on earth could a live musical theatre production EVER manage to match the memories of the Patrick Swayze/Jennifer Grey film?
While giving total respect to the storyline, dialogue, music and, of course, the dancing of the movie, the live show replicates our movie memories in every way it can and comes up with ingenious ways of portraying the aspects it can't. For example, a stage show can't recreate the 'lift training' scene in the lake but has created an imaginative way of producing it, and bringing a comic aspect to it at the same time.
With standing ovations at every performance, Dirty Dancing – The Classic Story on Stage finished a record breaking run at the Dominican Theatre in London at the end of April and is currently on a 24 week UK & Ireland tour, performing at the Millennium Forum until Saturday (September 23).
Michael O'Reilly and Kira Malou reprise their roles as Johnny and Baby on tour and totally raise the roof off the Millennium Forum with their performances. It's quite a task recreating roles which are engrained into the minds of movie fans but both performers attacked the challenge with gusto, showcasing some incredible dancing. The supporting, hard-working, all singing and dancing cast brought buckets of energy, fun and zip to the production with stand out performances from Daisy Steere as Lisa Houseman and Colin Charle as Tito Suarez.
Kellerman's Band – Richard John (Supervising Musical Director), Morgan Burgess, Tom Parsons, Tom Mussell, Tim Wade and Gabriel Askew – were central to all the action and were, quite rightly, afforded their own curtail call.
Lisa Heaney, Box Office Manager at the Forum, said: "Ticket sales for Dirty Dancing have been exceptional and it's not surprising. It's now looking like this show may sell out, so I would strongly recommend anyone who hasn't yet booked their seat, to do so as soon as possible to avoid disappointment."
Telephone 71 264455 or visit millenniumforum.co.uk for bookings.