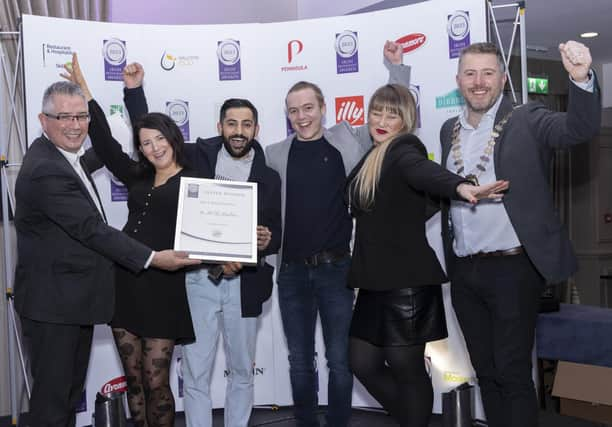 54 pictures as Northern Ireland firms scoop accolades at Irish Restaurant Awards
Northern Ireland restaurateurs battle for an award at the prestigious Ulster regional final of Irish Restaurant Awards 2023...but who were the winners?
Published 23rd Mar 2023, 10:18 BST
Updated 23rd Mar 2023, 12:44 BST
Showcasing the incredible food on offer in Northern Ireland's cafes, hotels, pubs and restaurants, over 100 well-known restaurateurs turn out to see if they had won one of the prestigious awards.
Speaking at the Ulster Regional Awards president of the Restaurants Association of Ireland, Paul Lenehan, said; "Now in their 14th year, the Irish Restaurant Awards returns with a record breaking number of public nominations (over 130,000). This sheer number of votes highlight the support and appreciation by the general public for our hospitality sector and all who contribute to it.
"The awards are an opportunity to celebrate the existing, and up and coming talent, in the sector and are a reminder that hospitality is nothing without their dedicated and passionate staff. The awards continue to showcase the incredible food that is on offer in the cafes, hotels, pubs and restaurants of Ireland."
Food outlets were nominated under the categories of Local Food Hero, Best Sustainable Practices, Best Free From, Best Emerging Irish Cuisine, Best Restaurant Manager, Best Wine Experience, Best Café, Best World Cuisine, Best Newcomer, Pub of the Year, Best Casual Dining, Best Hotel & Guesthouse Restaurant, Best Customer Service, Best Gastropub, Best Chef, and Best Restaurant and finally a new award category for 2023 Innovator of the Year.
All of the county winners now compete for the Regional and All Ireland titles, which will be announced at the Irish Restaurant Awards All Ireland Final on Monday, May 15 in the Clayton Hotel, Burlington Road, Dublin 4.
Pictures by Paul Sherwood.
The winners on the night were:
Local Food Hero sponsored by The Irish Times
Antrim - Phil Ervine, Taste and Tour
Armagh – John & Sarah Murray, Embers
Cavan - Imelda Mullen, The Cottage Market
Derry - Kevin Pyke, Pykes "N" Pommes
Donegal - Chris Molloy, The Lemon Tree
Down - Peter Hannan, Hannan Meats
Fermanagh - Marty McAdam, The Street Kitchen Enniskillen
Tyrone - Colin McMenamin, The Red Pepper
Monaghan - Karl Breen, Wild Thyme Restaurant
Best Sustainable Practices sponsored by Gas Networks Ireland
Antrim - Academy Restaurant, Ulster University
Armagh - Killeavy Castle Estate
Cavan - Cabra Castle Hotel
Derry - The City Hotel Derry
Donegal - Rathmullan House
Down - Slieve Donard Hotel
Fermanagh - Manor House Country Hotel
Tyrone - Corick House Hotel & Spa
Monaghan - The Hillgrove Hotel
Innovator of the Year sponsored by Diageo
Armagh - The Corner House Bar
Cavan - Blossoms Tea Rooms & Garden Centre
Derry - Brøn Cafe Bar and Restaurant
Donegal - The Bluestack Shack
Fermanagh - The Giddy Box
Tyrone - The Millstonebar and Restaurant
Cavan - Chapter One Food & Living
Donegal - Chandpur Restaurant
Down - The Smugglers Table
Fermanagh - Milly's Restaurant
Tyrone - The Tailor's House
Best Emerging Irish Cuisine sponsored by FBD Insurance
Armagh - Clenaghans Restaurant
Cavan - People's Restaurant
Tyrone - The Banks Restaurant
Monaghan - Wild Thyme Restaurant
Best Restaurant Manager sponsored by Halcyon Group
Antrim - Alain Kerloc'h, OX
Armagh - James Scott, The Bawn Pantry
Cavan - Ola Kavanagh, The Oak Room Restaurant
Derry - James McKee, District 45
Donegal - Orhan Enric, Harveys Point
Down - Saul McConnell, Noble
Fermanagh - Mario Breban-McDonald, Tully Mill Restaurant
Tyrone - Ellen McCabrey, Chapter V
Monaghan - Emma Aughey, The Squealing Pig
Best Wine Experience Sponsored by Bibendum Ireland
Cavan - The Olde Post Inn
Derry - Artis Restaurant by Phelim O'Hagan
Fermanagh - 28 At The Hollow
Monaghan - Snaffles Restaurant at Castle Leslie Estate
Best Café sponsored by Illy
Cavan – Tillie's Tea Romms
Monaghan - Screaming Bean Café
Best World Cuisine sponsored by San Pellegrino
Down - Tuk Tuk Asian Bistro
Best Newcomer sponsored by Square
Fermanagh - The Dog and Duck Inn
Tyrone - The Banks Restaurant
Monaghan - The Castle Bar & Restaurant
Pub of the Year sponsored by Peroni
Armagh - Hole in the Wall
Monaghan - The Coachhouse & Olde Bar
Best Casual Dining sponsored by Musgrave Marketplace
Cavan – The Oak Room Restaurant
Donegal - Andersons Boathouse Restaurant and Accommodation
Tyrone - Salleys Restaurant
Monaghan - The Batch Loaf
Best Hotel & Guesthouse Restaurant sponsored By Frylite
Antrim - River Room Restaurant at Galgorm
Cavan - MacNean House and Restaurant
Derry – The Gown, Bishops Gate Hotel
Down - The Salty Dog Hotel & Bistro
Fermanagh - Catalina Restaurant at Lough Erne
Tyrone - The Sika 1888 @ The Cedar Country Hotel
Monaghan - Snaffles Restaurant at Castle Leslie Estate
Best Customer Service sponsored Restaurant-Insurance.ie Provided by Dolmen
Cavan - MacNean House and Restaurant
Derry - Shipquay Restaurant
Donegal - Rathmullan House
Tyrone - Oysters Restaurant
Best Gastro Pub sponsored by Worldpay from FIS
Armagh - Digby's Bar & Restaurant
Cavan – Murph's Gastro Pub
Derry – Walled City Brewery
Donegal - Olde Castle Bar
Fermanagh - Granny Annies
Tyrone - The Brewer's House
Monaghan - Andy's Bar & Restaurant
Best Chef sponsored by BWG Food Service
Antrim - Gareth McCaughey, The Muddlers Club
Armagh - Chris McGowan, Wine and Brine
Cavan - Carmel McGirr MacNean House and Restaurant
Derry - Ian Orr, Browns Bonds Hill
Donegal - Ciaran Sweeney, The Olde Glen Bar
Down - Pearson Morris, Noble
Fermanagh - Glen Wheeler, 28 At The Hollow
Tyrone - Conor McCabrey, Chapter V
Monaghan - Conor Mee, Courthouse Restaurant
Best Restaurant sponsored by San Miguel
Cavan - MacNean House and Restaurant
Derry - Browns Bonds Hill
Donegal - The Olde Glen Bar
Fermanagh - 28 At The Hollow
Monaghan - Courthouse Restaurant
Undefined: readMore