The opening of Follow Coast is a milestone moment for owners, Lesley and Mark McCaughan, who acquired the business in Ballymena just one week before the Covid lockdown.
Delighted with the new seaside venture, Lesley, said she is excited to be back in Portrush where she attended Catering College over two decades ago: "We are so delighted to be finally opening our doors of Follow Coast. This has been the culmination of three months of hard work and significant investment and we are incredibly proud to finally welcome our first customers through the doors.
"As a family, we have so many fond memories of going to Portrush for days and nights out and so to expand here just feels very natural and fitting."
Mark and Lesley are hands-on and they have spent every evening and weekend at the new premises to complete the fit-out, alongside local contractors, to bring Lesley's vision and the Follow brand to life.
Lesley explained: "The past few years have been a real roller coaster and we are so happy to have survived and even thrived throughout the pandemic by adapting to new challenges. We had to pivot very quickly as took over Follow Coffee in mid-February 2021 and just two weeks later whole of the world went into Lockdown.
"Thankfully, we had already purchased a horse box, with the aim of doing events and outside catering. So, with all of those cancelled, we positioned it in front of our Ballymena shop, to offer takeaway drinks and treats, whilst we worked behind the scenes on developing our food offering. I knew there was a huge gap in the market for tasty, locally sourced food that was nutritious, wholesome and delicious. So, a great deal of care, time and effort went in to ensuring the menu was just right.
"Mark then worked every evening and weekend to completely revamp the premises, all whilst working full-time. The end result was something we are both very proud of.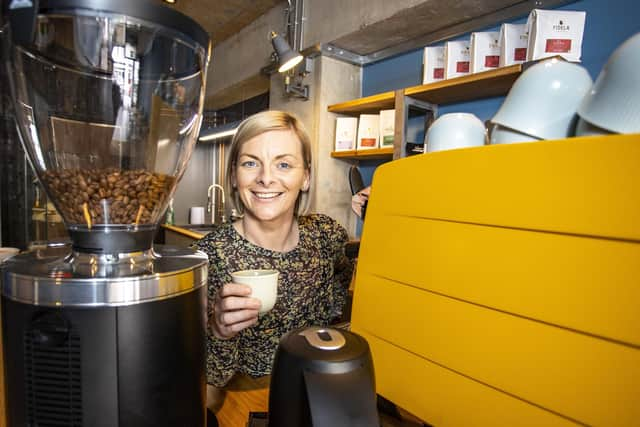 "People came from far and wide to get their daily Follow coffee and for that we will be forever grateful, as this has given us a fantastic customer base that continues to support us to this day."
The expansion of Follow Coffee to Portrush is an exciting development for the area, and the new business is committed to investing in the community and creating jobs.
"It now feels like a real homecoming for me to bring a taste of Follow to Portrush, and I'm thrilled to bring our specialty coffee and food to this beautiful coastal town," she added.