Chamber of Commerce 
urges people to buy local
The lockdown has proved to be hugely difficult for local businesses, many of which have had to close their doors for much of the last year.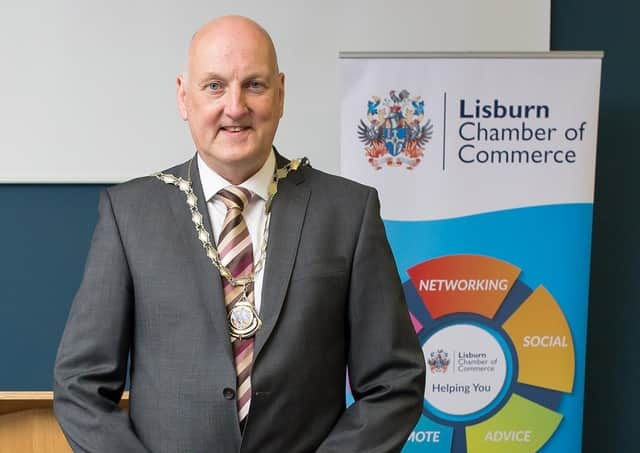 Lisburn Chamber of Commerce President Garry MacDonald
Garry MacDonald, President of the Lisburn Chamber of Commerce has spoken of the devastating impact the lockdown has had, particularly on retailers.
However he has also praised businesses for their resilience during this last year.
"One year on from the initial lockdown it's just as well we didn't know what was ahead of us," said Garry.
"If we had known then the situation would have been far worse for all of us whether we were in business or not.
"As it is, our local retail and hospitality businesses have endured a torrid time of it, multiple lockdowns, rent, insurance, premises and national, employee pensions and a myriad of other overheads paid from, in most cases, bank loans, lifetime savings and family bailouts.
"We are now faced with the prospect of a phased return not knowing when exactly that is and just how much stock can afford to be bought and paid for from what? Certainly not Christmas, Valentine's Day, Mother's Day, St Patricks Day takings, so many missed events and now, in less than two weeks' time, the whole Easter period as well.
"Still it is to their eternal credit that our retailers have manged to hang on in there based on the hope that the recovery is just a few weeks away.
"One thing we cannot tolerate though is lurching back into lockdown so this needs to be a sustained recovery, albeit one with restrictions on social distancing and facemasks remaining firmly in place.
"Our members are buoyed by the fact that we have had a successful vaccine roll-out and that their Covid shop cleaning and queuing regimes are robust and will continue to be present for months to come.
"We are also finding that there is investment being made, Greens £1M plus re-fit, expanding into the recently vacated Edinburgh Woollen Mill premises springs to mind, but there are also smaller premises that were vacated pre-Covid that are currently being refitted for new incoming businesses.
"We are particularly delighted with the coming of the Haslem Hotel into Lisburn and how it has rejuvenated Lisburn Square and even during lockdown, three new businesses are opening their doors when guidelines allow us topen up again.
"Enduring the financial and emotional rollercoaster that our local business owners and employees have had to stand-up to has laid them low for sure but we are all stronger when we work together.
"With time and each of our personal commitment to make a conscientious difference by the simple act of thinking, shopping and buying local it will be the rock upon our salvation will be built."