Erin Massey of the Communication Workers Union says they are struggling to survive on a low wage despite dealing with major traumatic events and life-threatening emergencies.
The CWU predicted 'serious disruption to emergency services' today as the emergency call workers walk out on strike for the first time with colleagues in the BT Group.
Members of the Communication Workers Union – the union for BT Group workers – will be walking out on Thursday 6th October, with further strikes planned for Monday 10th , Thursday 20th and Monday 24th October.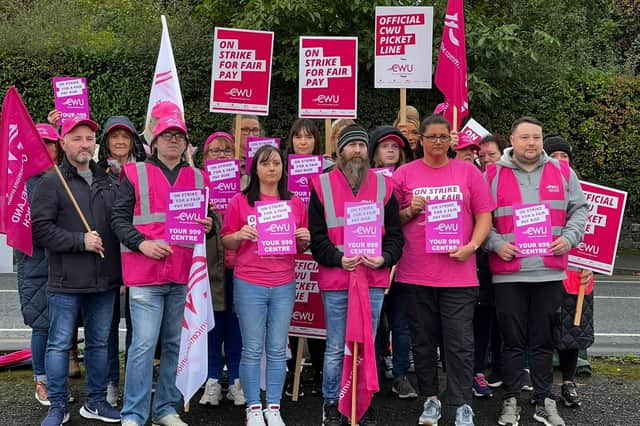 -
-
It is understood the 999 centres will be manned by a small number of staff who are not on strike and managers who have been trained to take calls. "We will do whatever it takes to protect 999 services – redeploying our people to the most important priority is a normal part of BT Group operations," said BT.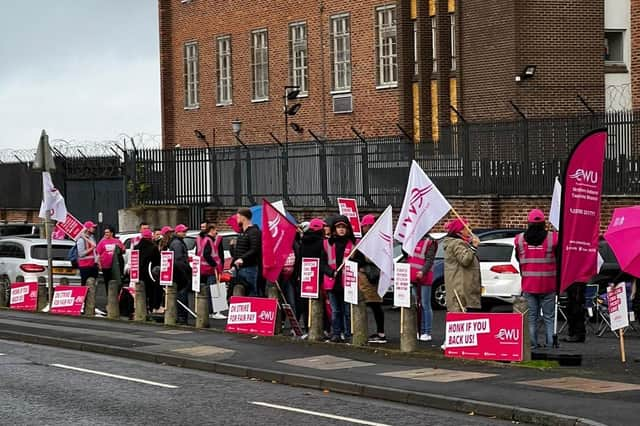 These strikes include the 30,000 Openreach engineers and 10,000 BT call centre workers across the UK who have taken action in previous months in opposition to BT Group management's imposition of an flat-rate pay rise of just £1,500.
What the Communications Workers Union said
A spokesperson for the CWU said: "In the context of RPI inflation levels already hitting 11.7% this year, this is a dramatic real-terms pay cut.
"It is also in the context of BT making £1.3 billion in annual profit, with CEO Philip Jansen gaining a £3.5 million pay package – a 32% wage increase."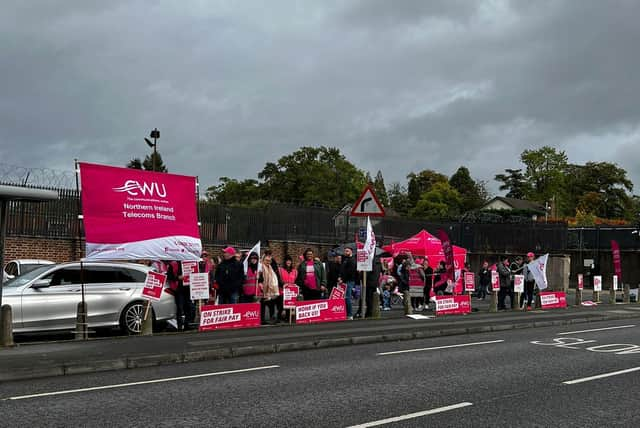 Also on strike is a large number of those working on Britain's telecoms infrastructure, from mobile phone connection, broadband internet and back-up generators to national health systems, cyber security and data centres.
The CWU said that in previous strikes, it was agreed between the union and the company that 999 call handler workers would be exempt from the strike, and that a certain number of workers would be available to work at any given time.
A spokesperson said: "But after widespread outrage at the company's refusal to negotiate with union representatives, these workers will now be joining their company colleagues."
CWU General Secretary Dave Ward said: "This dispute is modern Britain in a nutshell: lives are at risk because a company's top brass won't listen to workers. This decision was not taken lightly, but our union's repeated attempts to initiate discussions was declined by a management who clearly believe they are above negotiating a fair deal for people who make massive profits for them.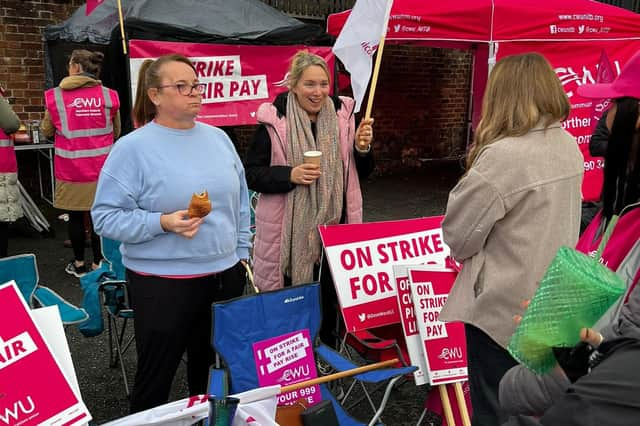 "999 operators are using foodbanks, they're worried about the cost of living and are being stretched to the limit. Good will won't pay the bills, and vital services are now being hampered because of corporate greed. BT management clearly has no appreciation of its workforce, or their social value.
"But this union does, and we will keep on fighting this company's attempt to plunge its workers into even further hardship."
CWU Deputy General Secretary Andy Kerr said: "It is downright disgraceful that BT Group's refusal to treat its members with an ounce of dignity has come to this. Time and time again, we have asked for negotiations to resolve what may well be a dangerous dispute for many, only to be ignored by a senior management that could not be less interested in addressing the anger that exists in their workplaces.
"This is a problem created by corporate greed – and as usual, its effects will be felt by ordinary people. But BT Group workers are determined and united. They will fight hard to get the proper pay rise they deserve.
What BT Group said
A BT Group spokesperson said: "We know that our colleagues are dealing with the impacts of high inflation and, whilst we respect the right of colleagues to take industrial action, we are profoundly disappointed that the CWU is prepared to take this reckless course of action by including 999 services in strikes.
"We will do whatever it takes to protect 999 services – redeploying our people to the most important priority is a normal part of BT Group operations.
"We made the best pay award we could in April and we have held discussions with the CWU to find a way forward from here. In the meantime, we will continue to work to minimise any disruption and keep our customers and the country connected."
BT said it was in 'exhaustive discussions' with the CWU that lasted for two months, 'trying hard to reach an agreement on pay'.
A BT spokesperson said: "When it became clear that we were not going to reach an accord, we took the decision to go ahead with awarding our team member and frontline colleagues the highest pay award in more than 20 years, effective 1st April. BT Group awarded a fully consolidated pay increase to its Team Member and frontline colleagues of £1,500. This represents a pay rise of around 5% on average and 8% for the lowest paid and it was effective from 1 April 2022.
"Despite this pay award – the highest for over 20 years – the CWU balloted its members, the result of which was a vote in favour of industrial action among its Openreach and BT members. They fell short of the required turnout among their EE members.
"We have confirmed to the CWU that we won't be re-opening the 2022 pay review, having already made the best award we could. We have been in constant discussions with the union throughout this process, including a recent face to face meeting, and although we've not yet reached any form of consensus, we are both committed to further dialogue.
"The CWU has notified us that they will be holding four days of industrial action for its BT and Openreach members on the 6th, 10th, 20th and 24th October.
"Our continuity and resilience processes have been well rehearsed over the last two years: At the start of the pandemic, we saw a near doubling of data traffic over our core network because of the mass shift to home working. At the same time, we had to re-prioritise the work of our frontline key workers due to colleagues self-isolating, social distancing practices and other restrictions from the pandemic – all the while keeping our colleagues safe and our customers and the country connected.
"We will work to reduce the impact of any industrial action by, for example, postponing any non-essential planned engineering or software updates - similar to what we did at the height of the pandemic and as we do over holidays like Christmas."