Artisan producer Ruairidh Morrison is invariably sold out of his organic and smoke-roasted salmon long before the Taste Causeway food markets he attends regularly in Coleraine and Ballycastle close.
Based in Ballycastle, Ruairidh owns North Coast Smokehouse, a small business he has created that skilfully cures organic salmon, other fish and condiments such as salt and pepper. His fish is now prized by hotels and restaurants especially around the Causeway. He's also won praise from national chefs and famed food writers for his delicious cured fish.
He's to be found at the big Causeway Speciality Food Market in Coleraine every month and at Ballycastle seafront over the summer months. He'll be at Coleraine today (Saturday) with 40 other artisans at the day-long market, now among the most successful in Northern Ireland in terms of the variety of original food products for shoppers.
"Food markets like Coleraine and Ballycastle are great for building my business," Ruairidh says. "They enable me to meet existing and potential customers interested in my fish. I explain to them about how I cure the products for superb flavours."
In addition to customers from the Causeway area, enthusiasts from Belfast and other parts of the country travel to buy the products that he makes by hand and in small batches for consistent quality and taste.
"North Coast Smokehouse is fundamentally an artisan business…and this is the way I am determined that it will remain," he continues.
Ruairidh, a Scotsman, owns the business with wife Melanie in Ballycastle. Located in Ballycastle Enterprise Centre, he hot smokes organic salmon, mostly sourced from the multi-award-winning and internationally renowned Glenarm Organic Salmon Company, also run by another Scotsman, John Russell.
The Morrisons set up in Ballycastle, Melanie's home town, in 2009 and established the smokehouse three years later.
"I'd always wanted to run my own salmon curing business," he continues "It's my background from my upbringing on the Isle of Islay in the inner-Hebrides."
He worked in salmon farming there for many years before moving to New Zealand to hold management roles in fish production.
In fact, it's an industry he's been involved in for around 30 years and has accumulated a vast wealth of knowledge and experience. Farmed salmon, of course, is now one of Scotland's biggest export industries and has become an important generator of overseas sales in New Zealand.
He was comfortable settling in Ballycaste because Islay has very close links with county Antrim that stretch back centuries and is also home to the successful Glenarm farmed salmon company, a small business focused on premium quality salmon for export. He buys whole salmon from Glenarm for curing and smoke-roasting.
He continues: "I produce organic smoked salmon in small batches to ensure consistent quality in both taste and texture. It's essentially a handcrafted product using my own curing recipe and hot smoking technique in our own small kiln in which we burn beech wood for a distinctive aroma and flavour.
"Customers can count on quality because each batch is individually and lovingly monitored by me. I also clean the fish and send the waste to Rathlin where it is used in the lobster industry. So, our salmon production is now a sustainable business that helps fishermen there.
"Our smoke is produced the old fashioned way, by simply burning small quantities of wood. We don't use liquid-smokes, paints or dyes. Our wonderful flavours and colours come from just the right combination of cure, smokiness, temperature, time and fresh sea air.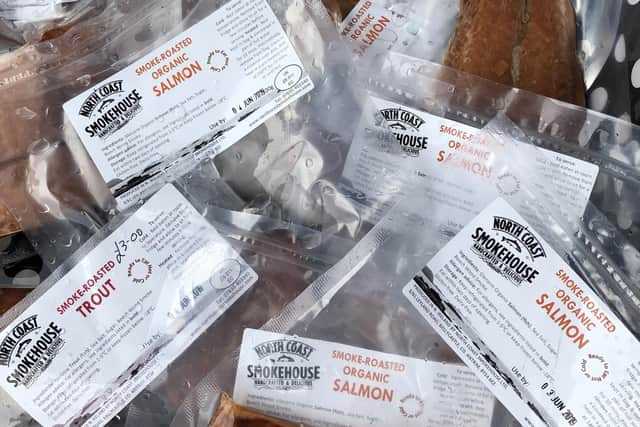 "We love the art involved in smoking food to the point where we think it is at its most delicious—an art learned in New Zealand where the tradition of smoking food is still very much alive today."
The couple combine innovation with a desire for sustainable living. Ruairidh also worked for many years in fish health in New Zealand animal health laboratories and then in the science team for Biosecurity New Zealand. Melanie holds a Masters in Environmental Law and Sustainable Development. In addition to the hot-smoked salmon, he has developed other smoked products such as sea salt, black pepper and, most recently, dried Dulse flakes (Palmaria Palmata), the latter being used as a highly innovative condiment for salads and other foods.