Alastair saw his Armagh Bramley apple-based sweet/savoury spread used by a range of food enterprises including one of Europe's biggest discount retailers and a respected bakery in Tyne and Wear.
He's well on the way to realising one of the original objectives of the spread as "A New Taste of Ireland". Other consignments of the spread, originally developed with the help of top chef, flavour guru and successful businessman Paul Clarke in Cookstown, were supplied in clients in many parts of US.
Tyneside's Sweet Patisserie of Emma Carlton, a distinguished pastry chef and writer, blended Alastair's Irish Black Butter and frangipani to create deliciously different apple mince pies for the Christmas season, which, according to the bakery, were acclaimed by a number of customers as "better than Fortnums". Alastair was also impressed, describing the mince pies as "an amazing taste experience".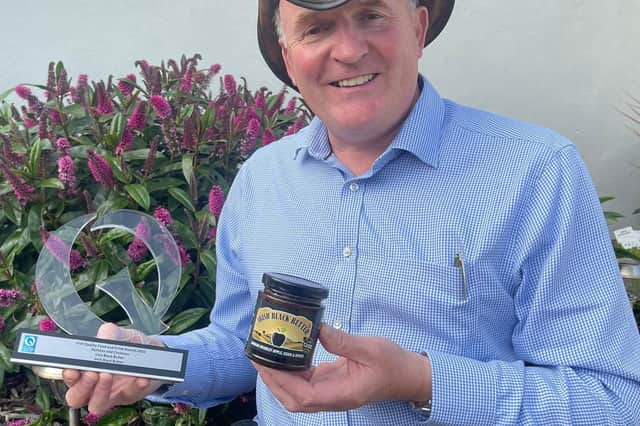 The deal with the specialist bakery came from Alastair's relentless marketing of the tasty spread through participation in food shows in Britain and Ireland. Aldi Ireland commissioned Alastair to repeat the outstanding success in 2021 by linking up again with Connolly Meats in Monaghan for the spread to be used as a delicious glaze on its Christmas gammon.
The Portrush entrepreneur was "delighted" by the continuing support from the top grocer. These successes demonstrate Alastair's focus on extending the product's applications, emphasising its taste and versatility through imaginative marketing of it as an individual product and as an ingredient for other foods and dishes.
"I recognised at the start of my journey in 2015 that I would need to develop applications for the black butter as well as coming up with other original products. The business simply wouldn't grow if it was dependent on one stand-alone product," he says. As a result of this recognition, the spread can be cooked, baked, spread and mixed.
He subsequently worked with leading local chefs to create recipe cards with interesting meal ideas for restaurants and home cooks featuring black butter. Larger catering packs were developed for professional chefs. He's already won backing for the spread from widely acclaimed chefs such as Michael Deane of Michelin-star winning EIPIC in Belfast and TV chef Paula McIntyre. James Martin, another British celebrity chef, described the flavour of Irish Black Butter as being "off the charts".
In addition, he has come up with new products such as jars of peanut and hazelnut spreads.
Irish Black Butter, however, remains his 'hero' product and one he expects to rack up greater sales in 2023. It's been used, for example, by Morelli's Ice Cream to create a new flavour.
Alastair said: "I have a business plan, of course, that I am in process of updating for the next five years. At times in the past, however, the direction has been unclear and then chinks of light in terms of sales in Britain, the Republic and further afield have appeared and provided much needed encouragement. I knew it was going to require determination and hard work. It's the nature of a small food business. Hopefully, there will be a sustained stream of light in 2023!"