The prestigious endorsement by Great Place to Work, a global authority on workplace culture and wellbeing, was awarded following an extensive independent employee survey which engaged Galgorm Collection's workforce of around 1,000 team members.
Employees voted across all six properties including the well-known Galgorm, The Rabbit Hotel & Retreat in Templepatrick, and The Old Inn, Crawfordsburn, along with its collection of restaurants which includes Fratelli and Parisien in Belfast city centre.
The only hotel group on the island of Ireland to achieve the exceptional standard, the distinguished certification rewards outstanding employers who demonstrate a high-trust, 'people-first' workplace and cultivate a culture which embodies values such as credibility, fairness, respect, camaraderie, honesty and pride.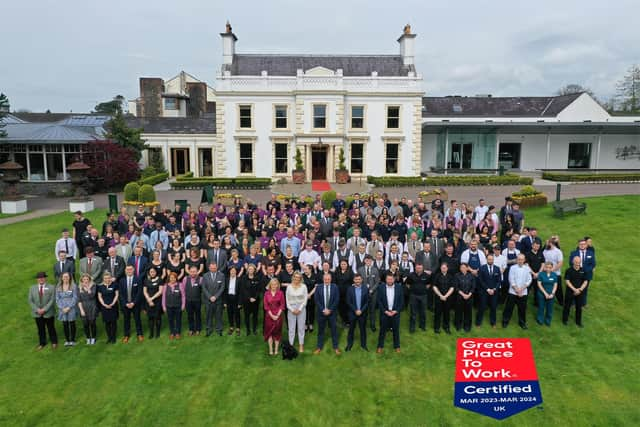 Laura Millar, HR Associate Director at Galgorm Collection said: "What makes this accreditation so important to us is that it's based on authentic employee feedback which is rigorously analysed using data-driven methodology and we can be confident that staff feel trusted, valued and supported in their roles and enjoy the many benefits of working with the region's premier hospitality group.
"Our success has always depended on our great people. From chefs to bar tenders, spa therapists and managers, to facilities staff, housekeepers, drivers and night porters, our people are what makes us famous for our warm welcome and unforgettable hospitality experience.
"Through our dedicated People Strategy, we work hard to ensure we offer the most competitive benefits and lead in the development of skills, training and career development opportunities."
Based solely on rigorous and validated employee feedback gathered by Great Place to Work – the global authority on workplace culture – the accreditation signifies that employees have a consistently positive experience in the workplace.
A major local employer, Galgorm Collection has dramatically scaled up its hospitality footprint and workforce over the last decade following a £90 million investment into the ongoing expansion and refurbishment of its flagship property Galgorm.
Its latest investment project aims to add new accommodation types and spa facilities by 2027.
Since 2020, Galgorm Collection has acquired and opened two major new hotels, The Rabbit Hotel & Retreat in Templepatrick and The Old Inn, Crawfordsburn, growing its workforce by 30 percent.
Meanwhile, Galgorm Collection last year announced a commitment to be carbon neutral by 2030, with a bid to become the first premier hospitality group on the island of Ireland to go fully green.
Galgorm Collection has also committed to the rollout of an enhanced benefits package for all eligible team members, including a £1 million investment into premium private health care cover over the next five years as part of its ongoing commitment to investing in its people.
In March 2021, Galgorm Collection announced 180 new roles across its range of hotels and restaurants to meet anticipated post-pandemic demand and announced its investment of more than £5m in annual wages in creating the new roles.