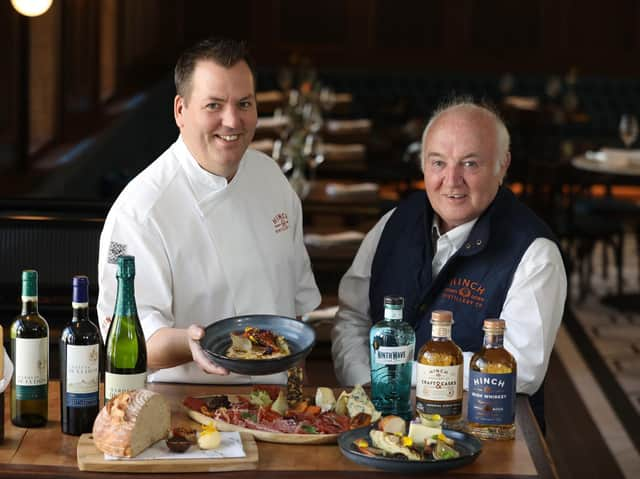 One of Northern Ireland's newest attractions, Hinch Distillery, is gearing up for the full launch of its restaurant later this month as it appoints Leo Small as Head Chef.
Hinch Brasserie, which will open fully on May 24 after a short period of outdoor trading, is set to wow visitors with a spectrum of dishes that employ the freshest local produce.
Its menu, which includes a number of dishes flavoured with the distillery's already famed whiskeys and gins, features classic dishes with a twist including Ninth Wave Gin Cured Salmon, buttermilk blini, lemon butter and caviar crème fraiche followed by masterpieces such as Whiskey Cask Smoke Cured Beef Short Rib with malt roast onion, whipped potato king and mushroom butter kale.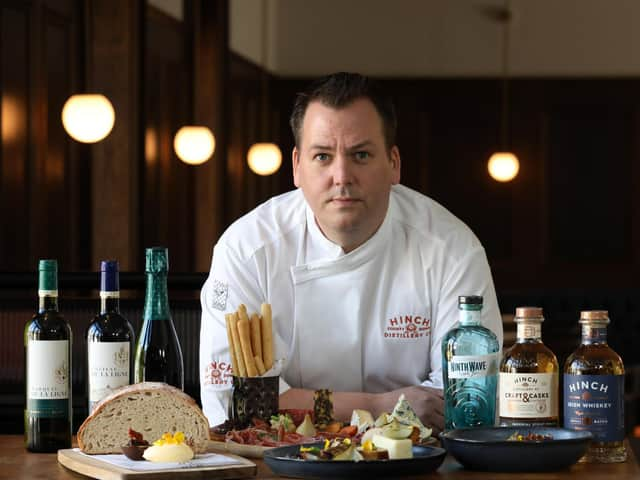 A children's menu also translates the fine produce into mini portions.
Head Chef Leo Small is behind the lovingly crafted menu. The Newcastle, Co. Down-born chef has a wealth of experience in the restaurant sector having worked at prestigious venues including The Savoy Hotel in London and the Michelin starred Peacock Alley restaurant in Dublin.
Closer to home, Mr Small was Executive Chef at Belfast Waterfront Hall ICC and Titanic Belfast while his non-commercial work includes the delivery of a bespoke menu for the red carpet Game of Thrones' wrap party which was attended by more than 2,000 actors and behind-the-scenes staff of the hit HBO television show.
Among his other high-profile diners are HRM Queen Elizabeth and Hillary Clinton.
Speaking about the full launch on May 24 when visitors will be permitted to enjoy food indoors, Mr Small said: ''I'm delighted to be part of what is a new and exciting tourism attraction in Northern Ireland.
''My passion is cooking and creating a memorable dining experience for all guests. We have so much good food grown here in Northern Ireland and it's a pleasure to be able to use that alongside some indigenous Hinch ingredients to craft a stunning menu for what is going to me a stunning new addition to the NI social scene.''
As well as the launch of full indoor restaurant service, Hinch Distillery is also planning to fully open its Visitors Centre on May 24. It will also offer a retail shop for those who wish to take a bit of the Hinch experience home.
Guided tours will also launch in the coming weeks.
Hinch Distillery, which had previously planned for a launch earlier this year, has been working hard behind the scenes since its production lines opened in November 2019 and distilling started on site in November 2020.
That work has produced no less than 9 different Hinch Whiskeys including Hinch 18 Year Old Single Malt and the recently unveiled Hinch Craft & Casks collection.
It has also launched a new Ninth Wave Gin Export version which is produced at export strength of 46 per cent as opposed to the classic bottle's 43 per cent ABV.
Speaking about unveiling the Distillery and its additional hospitality elements to the public fully later this month, Chairman Dr Terry Cross OBE said: "The launch of our vision in its entirety to the public has been a long-time coming and we're delighted that the award-winning quality of our whiskey and gin will now be savoured through a beautifully worked menu presented by our Head Chef, Leo Small, at our Hinch Brasserie.
''Leo doesn't just bring years of top end experience to the role.
''He has a true passion for serving up only the best dishes that make the most of local produce.
''We have no doubt that Hinch Brasserie will make its mark as an independent venue in the culinary scene in Northern Ireland and attract families from near and far who want to savour a true local experience for all the senses.''
Designed by Drinksology, the name behind the interior of the Dead Rabbit in New York, Hinch Distillery, Hinch Distillery flaunts local materials by artisan tradesmen in celebration of the best that can be produced in Northern Ireland.
For further information, visit www.hinchdistillery.com.