A stand alone branch of Home Bargains is being planned for the Belfast Road in the vicinity of the Loughshore Hotel, M&S and Lidl.
Senior planning officer Kyle Patterson told the committee the proposed location is an "out of town centre site on zoned industrial land" although approval has been granted previously for retail warehousing at the location.
He spoke of the "economic and social benefits" of developing a "long standing derelict and contaminated site" which he said "outweighs industrial zoning".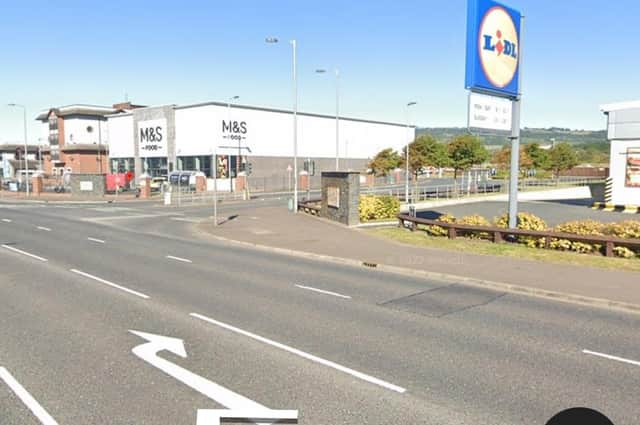 "It is not reasonable to insist on industrial use on the application site."
He went on to say an independent consultant had been engaged to review the applicant's statement examining the potential retail effect on Carrickfergus town centre.
Mr Patterson added: "The assessment did not identify any suitable alternative site in the town centre or edge of town centre. The impact on the town centre in terms of vitality and viability was considered limited and thus acceptable.
"This proposal represents a real investment in the town of Carrickfergus, a £10m investment into the local economy, 70 construction jobs and 80 to 100 retail jobs and significant rates boost.
"No objections have been received from private individuals or town centre retailers."
Major Investment
Eamonn Loughrey, the applicant's agent, told the committee: "This is a major investment for Carrickfergus. It will see the development of a new 42,000 sq ft store in the town.
"Home Bargains wants to build a retail store that is adequate to accommodate the full retail offer Home Bargains seeks to provide and to compete strongly with Lidl, M&S, Tesco and Sainsbury.
"The proposal will encourage shoppers to shop in Carrickfergus rather than outside the town such as the Abbey Centre and Belfast city centre."
Coast Road DUP Councillor Angela Smyth said: "I am sure Carrick would be very welcome to those jobs, I am happy to approve the recommendation." Seconding the proposal, Bannside DUP Cllr Tom Gordon said: "It is great to see job creation here not only in construction of this facility but the facility itself."
Larne Lough DUP Alderman Paul Reid commented: "It is a good news story for Carrickfergus. It is an area that needs a boost in employment."
Planning permission was approved unanimously.
Michelle Weir, Local Democracy Reporter