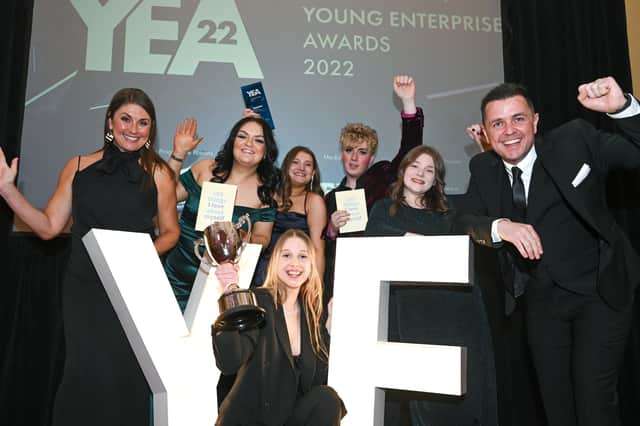 Students from St. Patrick's Academy, Lisburn, have been named Young Enterprise Northern Ireland Company of the Year 2022.
Their business, 103 Things, published a self-care journal entitled '103 Things I Love About Myself' in response to the post-pandemic mental health struggles of their peers.
The 17–18-year-old entrepreneurs started their business through the Young Enterprise Company Programme with the support of volunteer business adviser Sarah Ferguson of Sarah Ferguson Consulting.
The group competed against almost 80 student companies from across Northern Ireland and will now represent Northern Ireland at the Young Enterprise UK Company Final Awards in June.
The glittering return of the Young Enterprise Awards to Belfast City Hall, hosted by Sarah Travers and Pete Snodden, celebrated the charity's top companies, volunteers and supporters following a two-year absence during the pandemic.
Young Enterprise Chief Executive, Carol Fitzsimons MBE said: "It is fitting that after such a challenging time for young people for 103 Things to win this award. The students fully deserved their win, and their book has focused their fans on the positive mental health benefits of journaling. The Company Programme again has shone light on the outstanding talent of Northern Ireland's young entrepreneurs, and we are very proud of all the student companies and their achievements this year. It is crucial that we develop entrepreneurship skills in our young people and the Company Programme offers them the opportunity to do so with the support of experienced volunteer business advisers with the support of their teachers and peers."
The Young Enterprise Company Programme provided entrepreneurship opportunities to around 800 young people in 2022.