Morelli Ice Cream crowned Supreme Champion at Blas na hÉireann, the Irish food awards
Blas na hÉireann, the Irish food awards, have announced this year's winners with a three-day celebration of the best of Irish food and drink in Dingle – and the north coast's Morelli's Ice Cream has the opposition licked!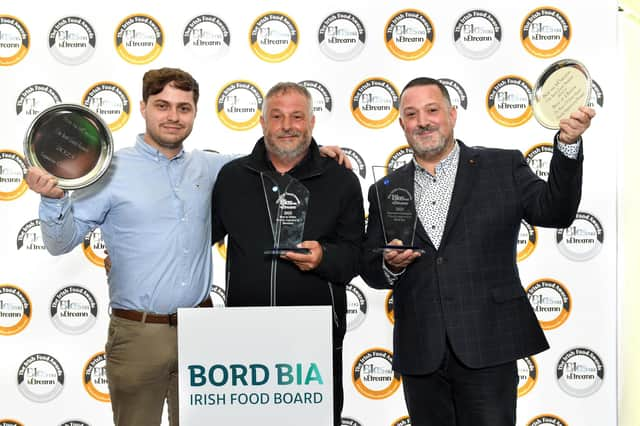 Morelli Ice Cream was crowned as Supreme Champion for their Morelli's Mango Sorbet.
A previous finalist and gold medal winner at Blas na hÉireann awards for their sensational ice creams, frozen yoghurts and sorbets, Morelli Ice Cream took top spot for their Morelli's Mango Sorbet, a sorbet that uses real mango puree and no dairy or lactose products.
Five generations after Peter Morelli left Italy by foot to start a new life ending up in Northern Ireland, setting up cafés and parlours across the county, his great nieces and nephews Marino, Romeo, Tania, Arnaldo and Daniela Morelli, are now at the helm, expanding the business overseas as well as establishing Morelli's across Ireland.
Their story of hardship, emigration, romance and family has been well documented and they are extremely proud of their humble beginnings from their great uncle's little café on the cobbled streets of Coleraine into what is now Ireland's most famous Italian Ice Cream and Blas na hÉireann 2023 Supreme Champion.
"We are delighted to be named Supreme Champion at this year's Blas na hÉireann," said Arnaldo Morelli, MD at Morelli Ice Cream. "Our grandparents and parents would be ecstatic and we are all very proud to carry on their legacy.
"Our focus is on quality ingredients and great tasting ice-cream and there really is no better award than this among Irish food and drink producers so to be crowned Supreme Champion is the cherry on top of our Mango Sorbet!"
There were other winners from the area too. In the Co. Derry category, there were wins for Broighter Gold Rapeseed Oil, Carol's Stock Market, Corndale Farm, Milgro Ltd, Taste Joy Company Ltd, William Grant and Company Limited. And in the Co. Antrim category, there was success for Annie's Delights (Best in County), Basalt Distillery Ltd., Caparelli Limited, Devil's Churn, Draynes Farm, Dundarave Estate, Glens of Antrim Potatoes Ltd, Golden Popcorn Ltd, Lough Neagh Fishermen's Co-operative, Melting Pot Fudge, Our Brewery by Geterbrewed Ltd, Suki Tea Makers and The Daily Apron.