New zero emission minibuses enter passenger service in Coleraine
Four state-of-the-art zero emission minibuses are now in operation on Coleraine Town Services, marking the first Battery Electric Vehicles (BEV) to enter passenger service on the Translink Ulsterbus network.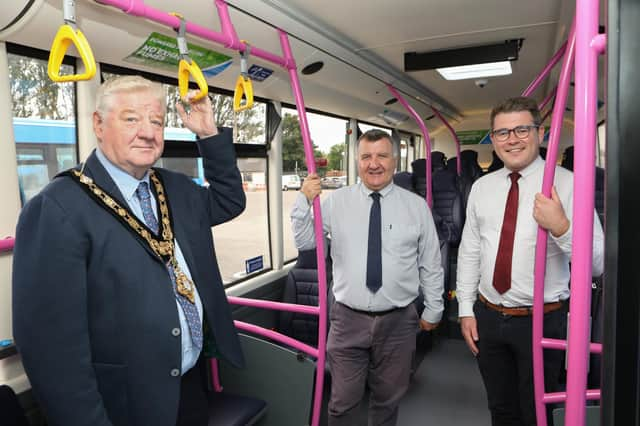 The buses have capacity to carry 42 passengers – 29 seated, and a further 13 standing. They come with a variety of features, including high specification e-leather seats, USB charging, WiFi, CCTV, and an audio-visual passenger information system showing passengers 'next stop' details.
The relative silence of these vehicles allows for effective use of an acoustic vehicle alerting system for increased safety when travelling at lower speeds. They will also be fully accessible, with a dedicated wheelchair area and space for prams.
Coleraine Bus & Rail Centre has undergone upgrades as part of this initiative, with four electric vehicle chargers installed enabling all buses to be fully recharged nightly. There are also plans for a further nine charging stations to be installed in the Causeway Coast town in the near future. Translink staff have already undergone a BEV training programme, providing them with the relevant skills to deliver a safe, reliable and comfortable bus service.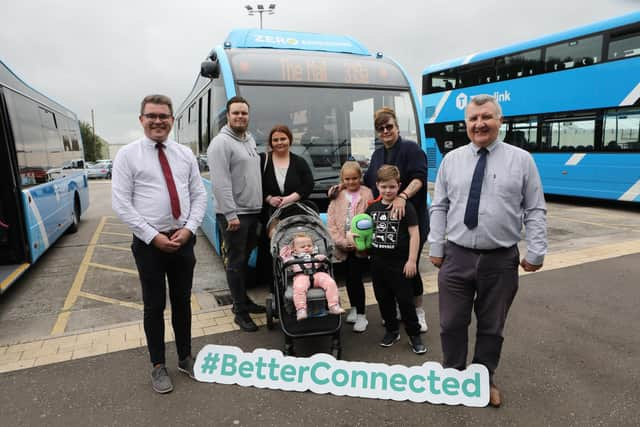 Mayor of Causeway Coast and Glens, Councillor Steven Callaghan said: "I am delighted that our Borough is home to Translink's first fully operational zero emission minibuses on the Ulsterbus network. These buses will provide our residents and visitors to Coleraine with a more sustainable, greener way to travel around the town at a time when reducing carbon emissions has never been more important."
Sam Todd, Translink Service Delivery Manager, said: "Reducing carbon emissions in and around our towns is vital to tackling the climate crisis. Investment in this zero emission fleet and technology will hopefully also be a catalyst for encouraging more people to use public transport in the coming years and keeping everyone better connected.
"These particular buses are the first of their kind to commence service on our network, and we hope that by harnessing the power of collaboration, innovation and sustainable practices, we are well on the way towards creating a cleaner, greener and more sustainable future. I'd like to thank everyone involved in the successful delivery of this project and look forward to welcoming customers on board."