Norman, who had attended Ballyclare High, decided to give up a career in finance and pursue his passion for sport and music by opening a shop dedicated to both.
Recalling those early days Norman said: 'I'd always enjoyed sport, having captained the First XV at Ballyclare High and later, turning out on a Saturday in midfield for Ballyclare United.
"I played guitar and sang the occasional vocals in a four-piece band called 'Euphony' and I've great memories of organising and playing at many a Saturday night dance in a packed Town Hall. Those were good times and Ballyclare was a thriving town, so when the opportunity came to open a shop, I'd to give it a go. In those early days, I mainly sold sports clothing and equipment at the front of the shop, along with bicycles, toys and even fishing gear at various times, plus musical instruments, amplifiers and vinyl at the back.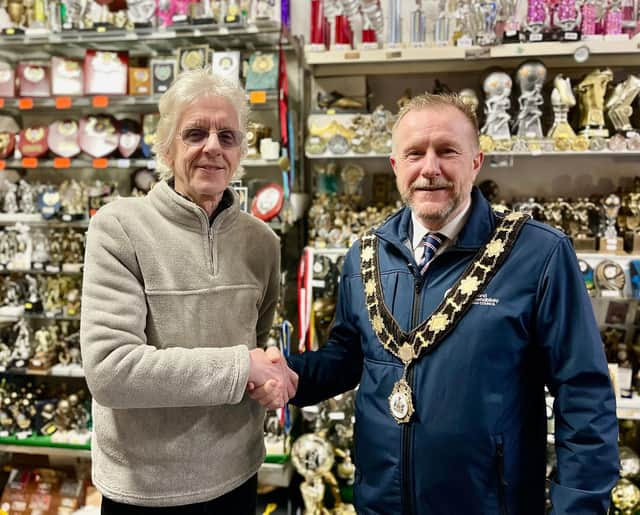 "A few years later we started supplying medals and trophies to sports clubs, groups and organisations and about 20 years ago, we became the main stockist of uniforms and PE kit for the local schools. We've been fortunate to be able to adapt our business to suit our customers, and we're grateful to them for their loyalty and support. As a family business, it's been great to see many of the families who came into the shop back in the 70s, still call by today.
"The internet has probably been the biggest challenge to our business in recent years, as it has been for many town centre retailers. Thankfully my family takes care of the technology and the development of the business and by keeping our prices keen and offering our customers a friendly, personal service every time they shop with us, we can give folk the care and attention they can't always get online. It's also meant we've been able to help clubs, groups, organisations and events with support when they've needed it, and it's been a privilege to play our part in their successes over the years. That's what's got us through the last 50 years and hopefully it'll mean that businesses like the Sport 'n' Sound will still be around in 50 years."
Cllr Michael Stewart congratulated Norman on reaching the milestone. Cllr Stewart said: "Sport 'n' Sound has always been a much loved part of the community. The support Norman has given the town has been appreciated by generations of families, clubs, groups and organisations, so it's wonderful to see the business celebrate this magnificent milestone and I wish them continued success."
Mayor, Ald Stephen Ross said: "Sport 'n' Sound has become synonymous with Ballyclare, and for many sports clubs and schools, it's been the go-to place for trophies for sports days, festivals, events, and much more. Despite facing challenges such as economic downturns and the rise of online shopping, the business has continued to grow. This is a testament to Norman's enthusiasm and passion for delivering excellent service and products to the community. I'd like to wish Norman and his family continued success for many years to come."