SPAR Maxol Ballyclare, an independent dealer site owned and operated by Henderson Retail Limited, was awarded the Excellence in Customer Experience Award.
The team, led by Josh Gillies the station manager, achieved top scores across the board in the category and received excellent feedback from their mystery shopper about the staff who frequently go above and beyond for customers.
The Maxol Excellence Awards, which returned for the first time since 2019, promote excellence in station and store standards, customer experience and community engagement throughout its network of service stations across the island of Ireland.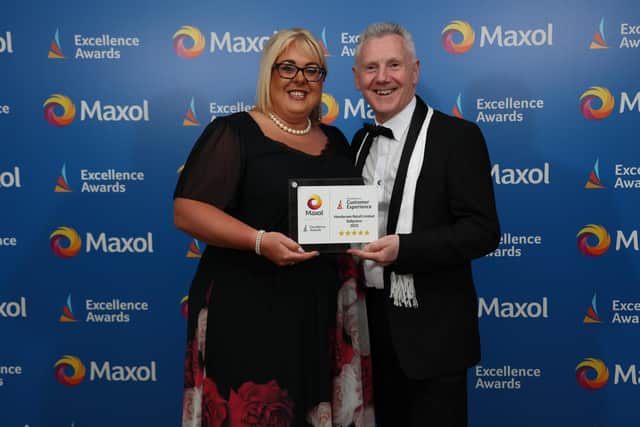 They are designed to recognise the exceptional efforts made by Maxol licensees, independent dealers and their staff and are assessed through regular store audits, mystery shopper visits and reviews of each store's local community engagement – rewarding retailers who are 'at the heart of it' in their local communities and have run special initiatives for Maxol's charity partner Aware NI.
As well as receiving consistently positive feedback from mystery shoppers, SPAR Maxol Ballyclare also has a 'tell us first' QR Code initiative which provides customers with an opportunity to share feedback. This has proven to be a great talking point for customers and ensures staff deliver a high level of customer service.
The station's manager Josh Gillies explained: "We are so proud to receive this special recognition, which is an achievement for every member of the team here in-store.
"We go above and beyond to provide for our local community and to deliver the shopper experience expected of a Maxol SPAR forecourt and store."
Brian Donaldson, CEO of The Maxol Group, stated: "I would like to congratulate Josh and his team on winning their Excellence award.
"Setting and maintaining the highest of standards is critical to the success of any business. It's therefore a genuine pleasure for myself and the team at Maxol to recognise and reward the hard work of our retailers and their staff, who continuously provide outstanding levels of service to their customers and their communities.
"The standards are getting higher each year and I am delighted we have been able to recognise the outstanding achievements of our winners through these Excellence Awards once again."