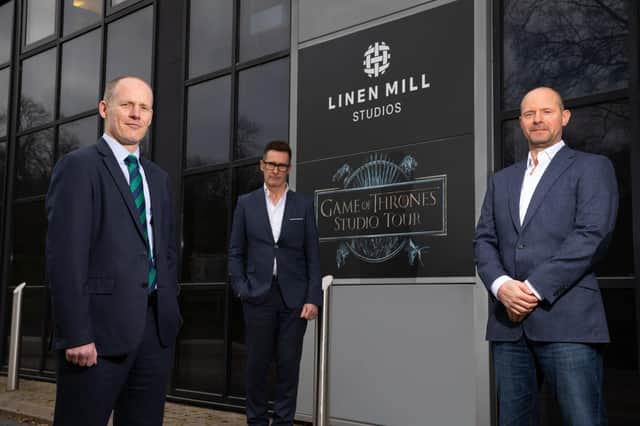 Pictured are (l-r) Gavin Campbell, Barclays Relationship Director; Mark Johnston, Linen Mill Studios Group Finance Director and Andrew Webb, Director at Linen Mill Studios.
The deal announced today, sees Barclays agreeing a £10m Term Loan to part fund the £36.5m development of the state-of-the-art visitor attraction – the official Game of Throne Studio Tour – at Linen Mill Studios in Banbridge.
The bank has announced that it has been appointed as the new partner for Linen Mill Studios, the foremost location for the filming of the HBO globally acclaimed and award-winning TV series.
Coinciding with the 10th anniversary of Game of Thrones, the new landmark tourist attraction, which is being developed under licence with WarnerMedia, will transform the 10,000 square metre film studio into an interactive visitor attraction which will house iconic and authentic set pieces, props and costumes from the multi-award winning TV series.
The official tour will also highlight and promote the creative industries behind Game of Thrones including design, art, make-up, prosthetics and CGI technology.
Linen Mill Studios is owned by two family-run businesses, Northern Ireland group John Hogg and Company and US-based Stephens family of the eponymous, Stephens Inc.
The development is due to complete in the summer and will provide a significant boost to the local economy and the Northern Ireland tourism industry.
Barclays Relationship Director, Gavin Campbell, said: "Given our international footprint we have always believed that Barclays was the ideal banking partner for this global project and we are delighted that we could support Linen Mill Studios in this exciting development.
"Our relationship model, which brings industry expertise, has already added value to the project and we will continue to provide operational accounts and industry support as the team continues to build out its processes.
"We have been impressed by the management team's dedication and foresight to deliver an eco-friendly, world-class attraction which will celebrate the impact Game of Thrones has had on Northern Ireland, and are delighted to have played our part in this iconic venture."
Andrew Webb, Director, Linen Mill Studios, said: "We are delighted to have secured funding from Barclays. On behalf of my fellow Directors, I would like to thank Gavin and the wider Barclays team for their support and professional approach during these unprecedented times.
"Given the global interest in this project, it was imperative that our choice of banking partner has the international presence and infrastructure to support our ambitious plans.
"With Barclays' support, we are now gathering momentum towards opening one of the most exciting visitor attractions in Northern Ireland's history later this year.
"Just the prospect of a Game of Thrones Studio Tour has already generated huge excitement and interest among fans around the world and we expect our opening to play a significant part in underpinning Northern Ireland's economy and rejuvenating the tourism sector on the island of Ireland in the wake of the Coronavirus pandemic."