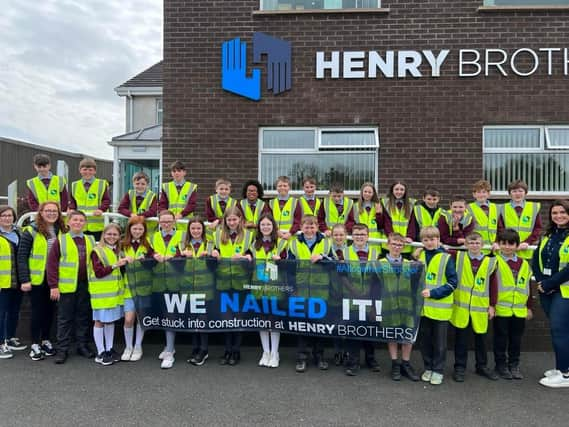 Pupils 'get inspired' at careers day hosted by Magherafelt construction firm Henry Brothers
P7 pupils at Woods Primary School recently got a taste for working life at a job sampling and careers day hosted by leading construction company, Henry Brothers.
Published 25th May 2023, 13:13 BST
Updated 25th May 2023, 13:54 BST
Pupils received an enlightening and hands-on session into the world of construction, with insights into both the industry itself and the rich history of Henry Group at the company's headquarters in Magherafelt.
They were also given the chance to try a variety of roles, including bricklaying, plastering, tiling, and joinery.
CR Director at Henry Brothers, Ian Henry, said: "We were thrilled to host pupils from Woods Primary School, giving them a unique opportunity to sample a career in construction through informative and interactive workshops.
"This is the first time that we have hosted this event for primary school students, giving them experience of a real-life working environment and the chance to get stuck in with various activities found on a construction site.
"At Henry Brothers, we are committed to developing the next generation of construction experts while going above and beyond to enrich the lives of young people in the community, and we hope that events such as these motivate them to pursue a career in construction."
Karen White, Principal at Woods Primary School, added: "Our pupils had an excellent morning at the 'Get stuck into Construction' session at Henry Brothers. Visits like this are a great way to showcase the wide range of career options available to young people within the construction and engineering sectors. The pupils enjoyed having conversations with many different construction professionals and loved the 'hands on' experiences provided during the visit including getting to try their hands at plastering, brick laying and joinery."
Undefined: readMore