Two Northern Ireland ice cream shops rated by taste experts among the best in the UK
Ireland's oldest producer, Morelli's has been named among the very best in the UK in major surveys including BBC Good Food and UK Great Taste Awards
Watch more of our videos on Shots! 
and live on Freeview channel 276
Visit Shots! now
Morelli, Northern Ireland's specialist in authentic Italian-style ice cream, has been given a timely summer boost from UK observers.
Famed for its Knickerbocker Glory and other tasty and colourful ice cream desserts, Morelli is now Ireland's oldest producer.
Two shops run by the Coleraine-based producer of a wide range of ice cream flavours and low-fat sorbets have been named among the very best in the UK in three major surveys including one by BBC Good Food, the leading gourmet food magazine.
The Coleraine company also gained nine gold stars including two three stars in this week's UK Great Taste Awards.
Loved by UK chefs and other food experts, such as writer Felicity Cloake were Morelli's distinctively branded shops in Portrush and Belfast, the only ice cream parlours in Northern Ireland to be recognised in Britain.
Morelli's sales and marketing director Daniela Morelli-Kerr was understandably "thrilled to receive such marvellous recognition from the experts".
"Such endorsements come at the height of the ice cream market in the UK and will also support our initiatives to develop sales in GB to Morrison's supermarkets, a key external market for the company," she says. "We've some business there already especially for our retail tubs."
Earlier in the summer, Morelli strengthened its position in Britain by means of a collaboration with the country's favourite jam and jelly brand Hartley's to create a new range of jelly and ice cream flavour pairings.
The flavour pairings, which have been created by a team of experts from Morelli's Ice Cream and Harley's, match the taste and texture of different ice cream flavours with a variety of jelly combinations to create this summer's go-to treat for ice cream lovers.
There was good news too for the enterprising company when three of the ice creams produced for Dunnes Stores Simply Better premium range were shortlisted in the Irish Quality Food and Drink Awards. The three unique flavours for Dunnes were butterscotch, caramalized hazelnut and mixed berry. Morelli signed a significant deal with Dunnes Stores, Ireland's biggest retailer, to supply new flavours of ice cream last year.
Morelli is among the most successful of Ireland's ice cream and has won the Regional Golden Fork for Northern Ireland in the finals of the UK Great Taste Awards. The company gained the award for its unique caramelised hazelnut flavour of ice cream.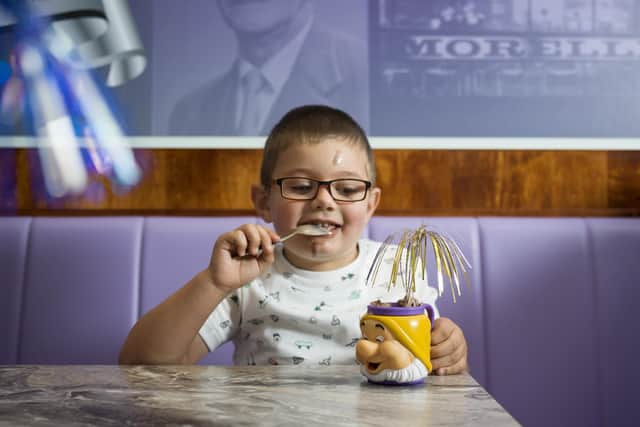 The family business, a Food NI member, has been creating ice cream since 1911 in what was then the north of Ireland; now Northern Ireland.
The business was formed by the Morelli family which moved to the region from Italy in 1911, making it Northern Ireland's oldest and best-known producer of a wide variety of ice cream flavours.
Many of the enterprising company's products have won prestigious awards from the Ice Cream Alliance industry, UK Great Taste and Blas na hEireann in the Republic.
Morelli's double vanilla, for instance, was named Best in the UK and Ireland in the Ice Cream Awards in 2019. It has also pioneered reduced sugar ice creams and dairy-free ice creams and produced frozen yoghurt in collaboration with Clandeboye Estate in Bangor. It has also produced an Irish Black Butter flavour with Portrush-based artisan Alastair Bell.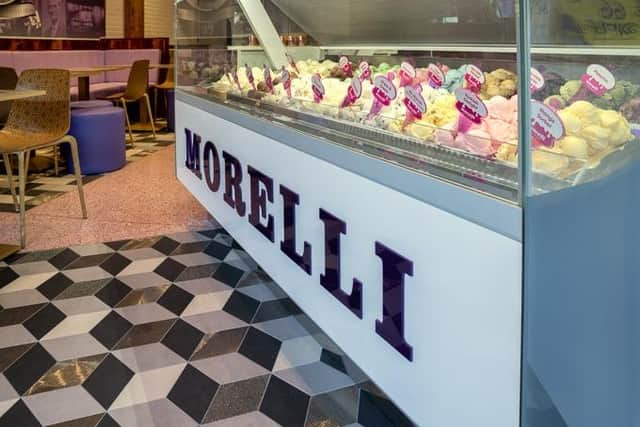 A major deal with Dunnes Stores, Ireland's biggest and hugely successful retailer last year, has also seen the company's authentic Italian ice cream in stores throughout Northern Ireland and the Irish Republic. A number of hotels and restaurants, in addition, serve the ice cream flavours.
Morelli's smooth ice cream is appearing under the supermarket's premium Simply Better range and is an important expansion of Coleraine company's business in the Republic, long a key market for the hugely successful and respected ice cream maker that's been creating the product for more than a century.
Five rich flavours have been developed by Morelli's team in Coleraine in collaboration with Dunnes for the immensely successful Simply Better range,
The flavours are: Madagascan Vanilla Bean; Caramelised Hazelnut; Mixed Irish Berry; Butterscotch and Strawberries and Cream. The Caramelised Hazelnut flavour won a Great Taste Awards Regional Golden Fork for Northern Ireland back in 2021," she adds.
The new flavours are now an integral part of the Simply Better range, a premium food collection with over 350 existing products, 270 of which are produced right here in Ireland. The range is now available exclusively in selected Dunnes Stores throughout Ireland and Northern Ireland.