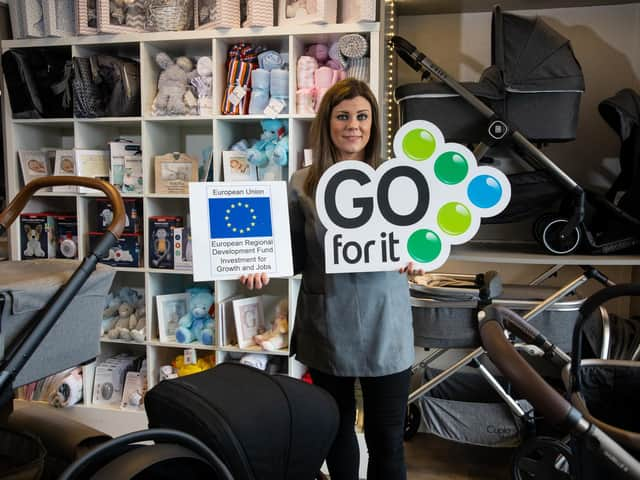 Suzanne Jennings opened her new boutique baby store, Babylife, in Whiteabbey to cater for new arrivals this spring, with a wide range of nursery products and a new online store, thanks to help from the Go For It programme in partnership with Antrim and Newtownabbey Borough Council. Photo: Brian Thompson
Whiteabbey business Babylife opened its doors in February last year and was planning to host a series of community events, including first aid courses and baby massage sessions.
However, the business was forced to cancel those plans when lockdown came into play three weeks later.
Owner Suzanne Jennings said she had been thinking about the idea for a few years, having noticed a lack of boutique baby shops in the area, but decided to go for it after the Mothercare chain closed.
The mum-of-three believes that for many mothers purchasing baby items, it can be a bit of an anonymous experience.
"I want to make it a special time, especially for first time mums, from finding out they're pregnant, coming in for a one-to-one appointment and finding everything they need in that journey," Suzanne said.
"When Mothercare closed, I was still using baby products for my youngest and I had family members who were having babies – and I saw a gap in the market.
"I saw a need and we wanted to meet that need – I wanted to offer a family-friendly atmosphere when customers came in."
When she was planning her store, Suzanne found the perfect premises on the main Belfast to Carrickfergus road and quickly applied to the Go For It scheme for assistance in making her dream a reality.
The Go for It programme is delivered free of charge by a team of experienced business mentors across all 11 council areas of Northern Ireland. It provides expert advice and help with developing a robust business plan to help turn ideas into a commercial enterprise.
"My advisor Karen Wilson was a great help - she was pulling out all the ideas that were in my head and putting them into a business plan," Suzanne added. "I had three face-to-face meetings and Go For It massively helped with market research."
The pandemic meant a change of tack - instead of offering a high-end customer experience on the premises, the entrepreneur had to pivot to build a website where customers could find high-quality prams, travel systems, car seats, cots and beddings without having to leave home.
The store was able to reopen in June 2020 by appointment only, and Suzanne found business starting to gear up as word of the store got about.
Despite the post-Christmas lockdown, the store has now built a strong e-commerce portal where customers can browse online and is bringing in new lines all the time.
Suzanne says she would advise anyone with a business idea to get in touch with Go For It. "It was a massive help - I would say if anybody is thinking of opening a business, they can really help with laying out and formatting your business plan," she added.