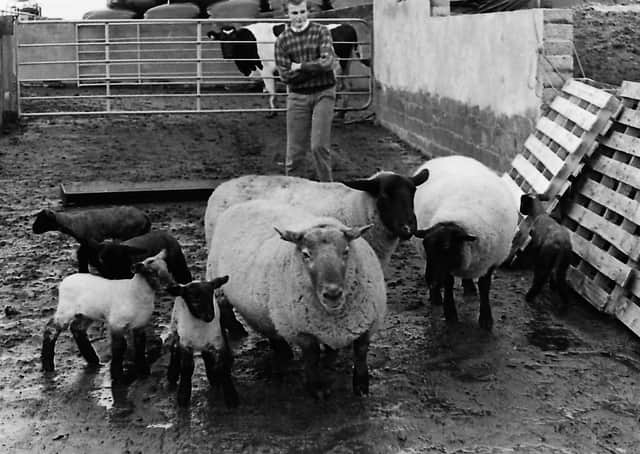 Pictured in October 1987 is James Arthur, 14, with three ewes and their five lambs. James looked after the sheep on the family farm at Knowehead Road, Templepatrick, Co Antrim. The three ewes had reared seven lambs in January. Picture: Farming Life archives
Buyers came from as far away as Cork and with others travelling from Cavan and Monaghan, and all over Northern Ireland, and there was only standing room at the ringside for the late arrivals.
The 45 bulls sold met extremely lively bidding and the average reached £1,568 – a rise of £208 on the 1986 event. The nine heifers sold at the event averaged £947 – an increase of £97.
The highest bull, an outstanding Orage son, shown by club chairman Wesley Minnis, sold at 2,850 guineas to Roy McKelview of Omagh.
Pictured in October 1987 is Noel Kilpatrick from Banbridge, Co Down, with the supreme champion Ballymoney Sam, at the Northern Ireland Simmental Cattle Club's autumn show and sale at Automart, Portadown, Co Armagh. Picture: Farming Life archives
With its "exceptional and impressive figures" - a 400 day weight of 758kg and a daily liveweight gain of 1.8kgs from birth – it had proven to be a worthy leader.
However, just after the sale, a price was agreed for William Black's Ballyholey Matador son and Samuel Robinson took this fine animal off to his herd at Cookstown, Co Tyrone, for 3,000 guineas.
Other leading prices included: 2,360 guineas paid to W A Patterson for the reserve champion, a Wilandsland Supreme son, which went to Thomas Miller of Strabane, Co Tyrone.
2,320 guineas to Joe Campbell for a Scottish Negg son, which went to J Currie of Ballymena, Co Antrim.
Andrew Patterson from Cookstown, Co Tyrone, with the reserve champion, Wilandale Supreme, at the Northern Ireland Simmental Cattle Club's autumn show and sale at Automart, Portadown, Co Armagh in October 1987. Picture: Farming Life archives
2,240 guineas, again to Mr Campbell, for a Camus Dandy son, which went to the Kelso Brothers of Portglenone, Co Antrim.
1,900 guineas to Norman Weatherup for a Stuartslaw Joseph son, which went to Robert Getty of Armoy, Co Antrim.
1,850 guineas for Mr Black's second bull, again by Ballyholey Matador, which went to Eric Love of Glarryford, Co Antrim.
1,800 guineas for M H Kilpatrick's Ballybane Jule's sired champion which went to Joe Simpson of Limavady, Co Londonderry, and to G McDowell for a Sacombe Edgar son which was sold to N McCracken of Limavady, Co Londonderry.
Other prices, in guineas, for bulls included: Jim Elliott, 1,700; D A and J R Clarke, 1,680; S H Watterson, 1,640; S K Stubbs, 1,620; J A Perry, 1,500; R A McBride, 1,540 and 1,520, and J Minnis, 1,500.
The highest prices heifer was a Hamlet daughter which was exhibited by Richard Clinghan and which sold to W McLean of Fivemiletown, Co Tyrone, for 1,540 guineas.
The judge for the highly successful sale was Michael O'Connor from Arklow, Co Wicklow.
The champion and reserve awards were sponsored by Thompson Feeds.
YEARLING BULL TOPS BIDDING AT AUTOMART
A yearling bull, Brookvale Boaz, fetched the top price of 3,600 guineas at the show and sale of Limousins which was also held this week in October 1987 at Automart in Portadown.
The bull – a Vagabond son and out of a Tango daughter – was exhibited by Colin Kerr of Lurgan, Co Armagh, and which was sold to the McAuley Brothers for use in their large suckler herd at Glenarm, Co Antrim.
Placed fifth in its class by the judge, William Callion of Cumbria, the bull met some of the fastest bidding in the centre in recent years, reported Farming Life.
The next highest price for a bull was 2,550 guineas which was paid for Carmorn Bruno which was exhibited by Charles McAuley of Toomebridge, Co Antrim.
This bull stood second to Mr Kerr's animal in the recent performance test at Loughgall.
The supreme champion was Bannside Brittan, an April 1986 bull which was offered by William Mulligan of Banbridge, Co Down. It sold at 2,500 guineas to William Bethel.
The highest price for a female was 2,800 guineas which was paid by George Allen of Portadown, Co Armagh, for Fairywater Beryl, a 15 month old heifer which was exhibited by J A Ewing of Omagh, Co Tyrone.
The reserve supreme – and female – champion was Ardigon Tiptoes which was exhibited by T W Sterling of Cookstown, Co Tyrone.
A heifer shown by Jim Scott of Killyleagh, Co Down, was the reserve female champion.
Twenty-one bulls were sold to an average of £1,875 each, 11 heifers sold to an average of £2,033.
DEER FARMING TO BE DISCUSSED
Farming Life in this week in October 1987 noted that: "Interest in the farming of deer has expanded over the last five years as a direct result of the surplus situations within the EEC of beef, milk and cereals."
The paper continued: "The EEC and, indeed the individual member states are all looking for realistic alternatives – a diversification from conventional farming methods.
"Experimental work both in Northern Ireland and the rest of the UK has shown that deer are readily adaptable to farming conditions and could provide an alternative to other forms of land use."
The prospects for deer farming was to be the topic of discussion at a public meeting which was to be held later in October by the Rural Action Project at Mullaghbawn GAA Club.
Speakers at the meeting were to include, from Limerick, Mr Val Maloney, who had set up the Shannon Free Airport Development Company's deer enterprise, which at that time had 600 deer on 11 farms.
From Glenwherry, Co Antrim, Jim Wilson, had established deer farming at the Department of Agriculture's Greenmount Hill Farm.
Newell Bingham, who had special responsibility with the Department of Agriculture for alternative enterprises, was also to speak at the meeting.
The field worker for the Rural Action Project in South Armagh, Mr Miceal McCoy, told Farming Life that the meeting was open to all interested farmers in addition to an invited audience of people who had expressed interest in deer farming during his recent week long tour of South Armagh marts and villages in the Rural Action Project information bus.