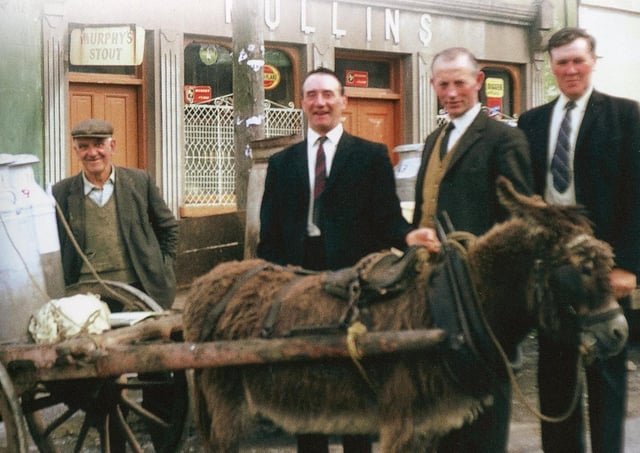 As Alan explains in his book: "In 1952, at the age of 15, I began to keep a diary, a daily routine which continued for 47 years right up to 1999, when we moved to our retirement bungalow. With these diaries filling the drawers in my beside cabinet, one day during the summer of 2011 my wife Agnes suggested that I should use my diaries to write the story of my life in farming."
After mulling over the idea for a while work got underway for the book in November 2011. Alan notes: "I have attempted to follow the sequence of my diary entries, if not daily, at least from year to year. Where possible I have highlighted key dates throughout my story."
In his introduction to the book he jokes: "I find the computer a very necessary piece of equipment and a valuable source of information, and I doubt I would be writing this story if I had only used pen and paper. But my keyboard skills are still very basic, and in fact I have typed this entire book with one finger!"
But the most important thing about A Touch of Grass and Alan's diaries is the history that they record for posterity. And the book is without a doubt a worthy addition to the annal of agricultural history.
WALKING THE CATTLE INTO OMAGH
Alan's diaries provide an interesting record of the processes of farming.
Reflecting on their store cattle practices in the early years after his parents had purchased Lishoppin House and its acreage, he records one aspect that has now been lost to time, namely walking cattle from the farm into Omagh for grading the Ministry of Agriculture in the 1950s.
Alan writes: "A number of store cattle were bought every spring to be fattened on grass. My father, along with a couple of friends, went to Ganley's Saleyard in Dublin once or twice a year to buy strong West of Ireland bullocks, which were necessary to satisfy the beef market at that time. These cattle were brought home by train from Dublin and unloaded at Beragh station, then walked home from there right through the middle of the village."
He continues: "After the cattle were fattened, they were taken to the 'Grader' in Omagh. With this system, the cattle were sold via a grading arrangement which continued for a number of years after the Second World War. The official 'grader', the vet, Tom Dunn (Derek Dunn's father), employed by the Ministry of Agriculture, sorted the cattle into different categories according to their conformation and fatness. Payments came from the Ministry of Agriculture a short time later. There were cattle pens for the grading process at the Fairgreen in Gallows Hill at the top of the Kevlin Road in Omagh. On grading days, together with two or three neighbours, we assembled a batch of possibly twenty cattle to go to Omagh. Leaving at 5.30 in the morning and with the help from all the farms, we walked the cattle into Omagh, up Market Street and High Street, through John Street to Fairgreen."
Alan remarks: "The cattle pens are long since gone, and that area is now cleared with houses. When meat rationing finally came to an end in July 1954, livestock marts and abbatoirs were opened for the sale of cattle."
GREENMOUNT COLLEGE 1955/56
In August 1955 Alan was fortunate, following an interview and examination at Greenmount College, to be awarded a scholarship which covered all his tuition and boarding expenses for the one year course. He remembers his time at Greenmount College fondly.
On silage and crops at Greenmount at this time in the 1950s Alan notes: "Greenmount kept detailed records for every field operation and produced an excellent little green book, the Farm Guide, for each year. Every fertiliser application was noted, with dates of all field operations, and grass-seed mixtures. Yields of grain and potato crops were detailed from each field, along with cow grazing days and an estimate of silage yields.
"Silage making was still very primitive. The grass was mown with a cutting bar attached to a Ferguson TE 20 diesel tractor, then picked up out of the swathe with a green-crop loader. This was a machine attached to the rear of a trailer and as they mowed along the field the long grass was picked up from the ground and delivered onto the trailer."
Alan is selling his book A Touch of Grass – based on the diaries of my life at £20 each. All profits (£7 per book) I have donated to Cancer Research UK.
Anyone wishing to purchase a copy of the book should phone Alan on 028 8225 0124 or mobile 07990-980405, he will post it out. Just add £4.00 per book to cover postage and packaging.
Books are also available at Sheehy's bookshop in Cookstown.