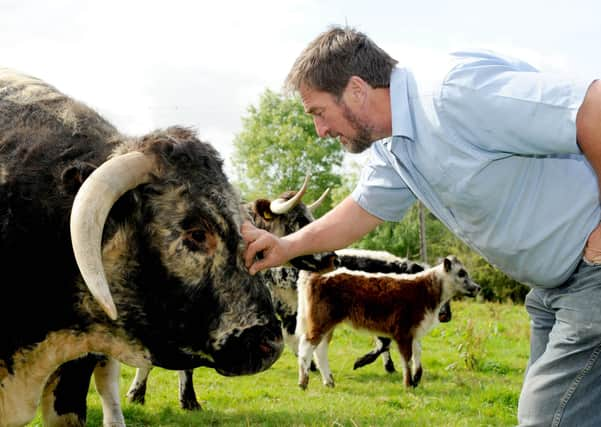 Kenny Gracey, from Tandragee, the owner for Forthill Farm Shop and well known for his work training and supplying animals for big screen productions in Northern Ireland, was a keen competitor during the eighties and nineties and regularly pitted his skills against the highly competitive Duke of Edinburgh.
The funeral of Prince Philip, who passed away last Friday at the age of 99, will take place today (Saturday).
Kenny explained how he always drove horses; he was a carriage driving champion in Northern Ireland, was Irish champion and won the Scottish National. He eventually progressed to pairs and then put a team together in the early 1980s, competing all over England.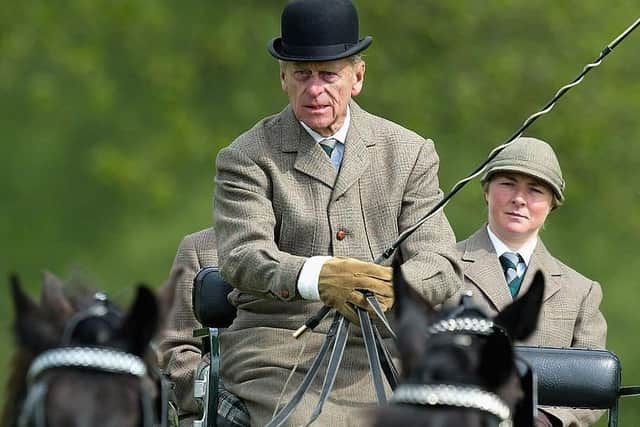 "I competed at Windsor five or six times and went all over England," he explained.
"I was in the same class as Prince Philip. Because he was always out at the same time, he was never able to see me driving other than the cone driving or maybe the dressage. He was never able to see me compete in the cross country phase and the hazards.
"I was known as the mad Irishman and although I never really got into dressage I did it and I didn't disgrace myself, but I always won the cross country phase and no one, especially him, could ever understand how I could drive the horses so fast.
"We were driving round Drumlanrig one year and all these cameras were out and about and we always thought it was because we were Irish and this was for security with him being there."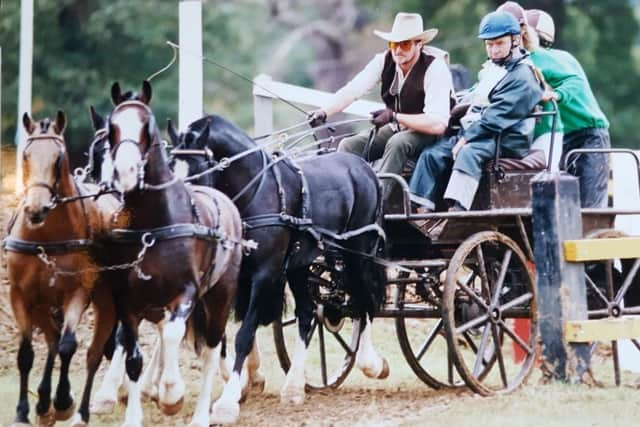 At another event later that season, Kenny discovered why the cameras had been there at Drumlanrig, which belongs to the Duke of Bluccleuch and Queenbury.
"You always had a referee and no one knew who it would be. When we landed at our start the referee was appointed by the trials organisers and it was just pot luck who drew what straw. This guy came over just as we went up to the start line and he got up onto the carriage. We introduced ourselves and I said 'I hope you are not of a nervous disposition' because at one stage there was a woman who felt it was too hairy and she actually got off the carriage. He said 'no I'm looking forward to this'. He said 'I was watching a video of you last night'."
Further conversation revealed that the Duke of Edinburgh was staying with the Earl of Lonsdale and the referee on the carriage just happened to be his groomsman. After dinner the night before the Duke had produced a video of Kenny's 'antics' at Drumlanrig.
At another competition Kenny, who made his own vehicles, was off loading one down a ramp.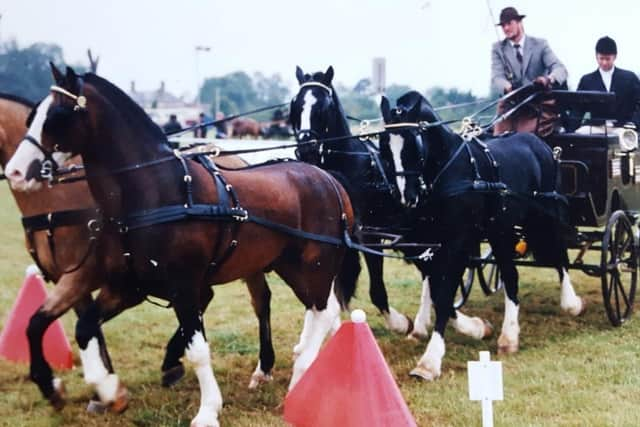 "I was conscious that there was someone behind me," he explained. "The vehicle ran off with me down the ramp and I was afraid of running someone over. As I turned round it just happened to be himself, the Duke. I stuttered a wee bit and stammered with the adrenaline of letting the vehicle off and then him just coming walking along. I could nearly have mowed him over. I said 'sorry I found it hard to find words to address you', and he said 'call me whatever the f*** you want, everybody else does," Kenny laughed.
"We walked the courses and we walked the hazards and cones at different times and had great craic. He loved driving. I have some wonderful memories of him.
"He was very competitive, but lovely with it. Very down to earth and very encouraging. He couldn't get over my cobs and my horses and the way I worked, because he had a groom for every horse on his team and there I was working on my own.
"My wife Jennifer and my groom Trevor would come over the day or two after me just ready for the competition, but I would have been over the day before setting up and exercising them.
"I was known as the mad Irishman and that's how he referred to me. I don't know if he coined that or not, but he always referred to me as the mad Irishman. That was the first time he came over and spoke to me and he said 'so you are the mad Irishman' and he laughed.
"He was very accepting of everyone and very encouraging of anyone in that sport, because he was so involved and one of the instigators of the whole thing taking off in the British Isles."
Kenny said he would be watching today's funeral.
"It will be history," he said. "It's history in the making, it's not going to happen again.
"Prince Philip definitely, and from what I know of him, and the way he accepted me into the ranks and how he treated me, he was a character and very down to earth.
"He served his country, and he played his part, and played his part very well. I have nothing but the greatest admiration for him and the Queen and for what they have done.
"He was very, very natural. Even though he came from royalty there were no real airs and graces about him. He got on with life and he did his duty, and I have nothing but the greatest admiration for that."