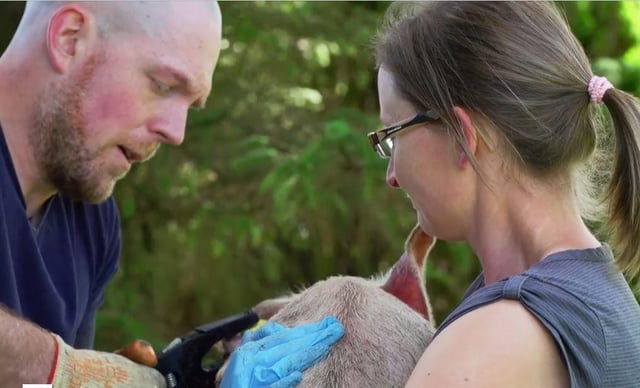 Jonny Hanson busy tagging piglets at Jubilee Farm.
It's July 2020, and the programme makers follow the rare breed farmers tackling the tasks of sheep selling, pig tagging and goat grooming.
For this latest episode - being aired on Tuesday, March 2 at 7.30pm on UTV - the team is in Larne Randalstown and Co Down to see how busy the farmers continue to be despite lockdown restrictions.
The programme shows seasonal activities at the unique community enterprise Jubilee Farm at Glenburn Road, which is worked by its members and volunteers. They produce vegetables and keep pigs, geese and goats.
Vet Laura Beattie at Jubilee Farm.
One of the jobs in hand for Jonny Hanson and the vet is tagging piglets, which proves to be not as easy as it looks,
"You have to outthink them!" says Jonny, as Sophie, a young volunteer from Larne Grammar School, who hopes to be a vet, gives him a hand.
They then move their attention to the goat herd, with the animals getting the full treatment. Hoof grooming, worming and treatment for flies and lice, are all ably carried out by vet Laura Beattie.
Jonny shares his hopes and dreams of one day being able to increase the goat herd, and use them for their milk, as well as meat, but he needs a new barn for that.
After a busy day he comments. "The day went well, with no major drama."
The programme also includes a trip to Randalstown, where James Alexander is looking forward to running his annual sheep sale and to Killinchy, where Adrian McGowan is working on his Brussel sprout crop for the Christmas market.
The final stop of the episode takes viewers back to Co. Down, to Claire Shearer in Comber. Despite there being no competitions this year, there is still plenty to do. She and partner David are disappointed at not being able to show the new foal, and they both miss the competitions as "that's where the entertainment is…" They are also important events where they can normally sell horses on.
UTV's Mark McFadden narrates the series.
Click here to read: Larne's Jubilee Farm project receives two social enterprise awards.