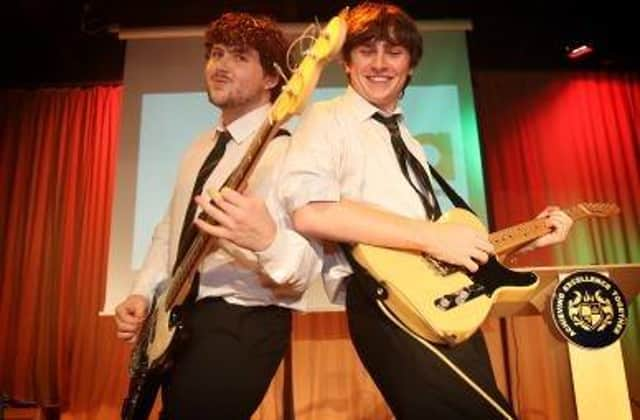 11 amazing photos as Integrated education celebrated in Glengormley
Students from integrated schools across Northern Ireland gathered at Integrated College Glengormley to celebrate this year's Carson Awards.
Published 3rd Nov 2023, 11:46 GMT
Updated 3rd Nov 2023, 12:59 GMT
The Carson Awards were started by late comedian and integrated education supporter Frank Carson, along with his son Tony Carson, an entrepreneur, in 2008.
Delivered through the Integrated Education Fund (IEF), this year's awards' theme was 'What Integrated Education Means to Me'.
Richard Massey, principal of the host school, said: "Staff at Integrated College Glengormley were delighted to have been chosen by the Integrated Education Fund to host this year's Carson Awards. This was especially exciting as we are the most recent post-primary school to transform to integrated status, allowing us the privilege of welcoming staff and students from many integrated schools from across Northern Ireland.
"Tony Carson, son of the late Northern Ireland comedian, Frank Carson presented prizes to Integrated College Glengormley and a number of other integrated schools during the event. Tony spoke candidly of his delight in sponsoring pupils in integrated education to develop new skills and interests that would perhaps otherwise not be possible."
During the event, pupils participated in dance, poetry, singing, and showcasing short films, created through the Carson Bursaries. A gallery area also displayed artworks produced across many schools, including video work from Lagan College students.
Mr Masey addedL "Senior representatives from the Department of Education, the Education Authority for Northern Ireland and the Northern Ireland Council for Integrated Education attended the celebration, with Mary Roulston, director of the Integrated Education Fund, providing the first public showing of the upcoming integrated education marketing campaign featuring Northern Ireland born, Hollywood actor Liam Neeson."
Commenting on the event, Paul Caskey, head of campaign, at the IEF stated: "The IEF are delighted to be celebrating the 15th year of the Carson Awards. While the topic and themes of the awards changes over the years, the quality never ceases to amaze."