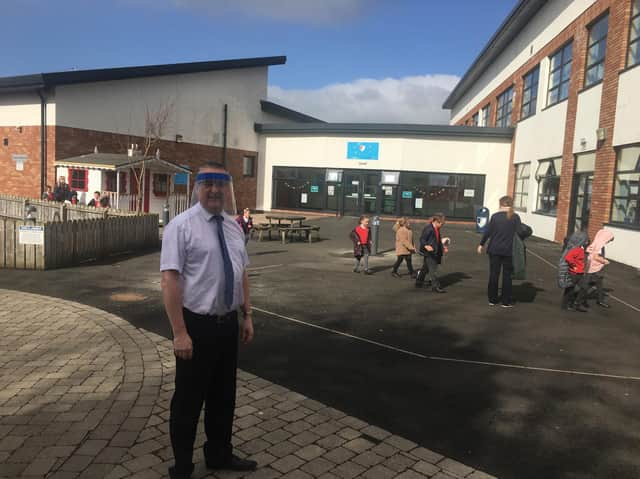 Lisnagelvin Primary School principal Colin Torrens is looking forward to welcoming pupils back to school again.
Lisnagelvin Primary School principal Colin Torrens says that while it will be great to see the children back in school, the decision by the Executive yesterday had caught them by surprise.
"When they didn't make a decision last week, I honestly expected the decision would be made for the children to return after the Easter break," he said.
"I have always said that the sooner we get the children back into school the bettter, providing that it is safe to do so.
"But to do it in the week leading up to Easter is really bad timing.
"My staff have spent hours preparing work packs for this week, next week and the first week back and now with just two or three days notice we are having to rearrange everything and get the school ready."
The Executive decided to allow all primary schoolchildren in the P4 to P7 age range toe return to school from Monday March 22 at its meeting at Stormont yesterday morning.
The current level of restrictions, which continue to affect scores of businesses in Londonderry and across Northern Ireland were imposed on December 26.
Households are generally still not allowed to mix indoors, pubs, cafes and restaurants remain closed except for takeaway, and most shops are shut.
Across Northern Ireland, P1 to P3 pupils returned to the classroom last Monday, as did nursery and pre-school children.
Mr Torrens says he would have preferred a blanket date of April 12 after the Easter holidays for all children to return to full-time education.
"It will be great to see them but I just don't think the timing is great and once again telling us at the eleventh hour is a bad idea for a whole stack of logistical reasons.
"I know from a parent's point of view they'll all be dancing in the streets and I can understand that.
"We will love getting the children back and it will be great to see them all again.
"But we have come so far and schools have now plans in place up to the Easter break.
"There is no issue within schools of transmission and the children being back at school is not the problem.
"I think by bringing all children back this side of Easter that it has sent a message out into the community that schools are back therefore we are all almost ready to open everything up.
"And I think transmission over Easter will increase as a result.
"I really hope that we do not end up having to send children back home again because of a decision that was made now when another week would have made no difference with everyone being off for the next two weeks.
"We need to follow this up with messages going back into communities that this changes nothing - stay at home, don't be going out unnecessarily. This is not a licence for people to start thinking that everything is clear, because it is not."