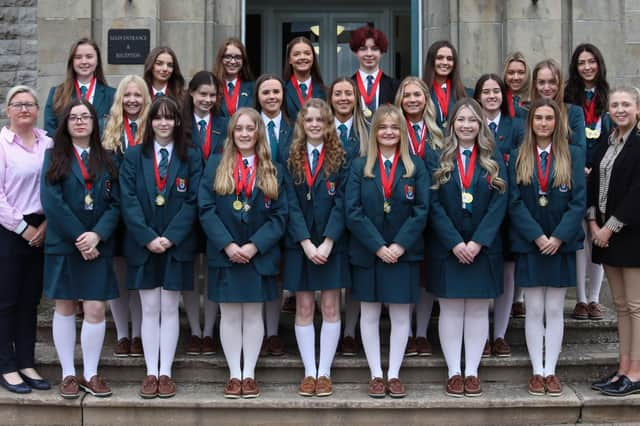 Mrs J Neill and Miss R Warnock with the senior dance team
The Junior Dance team, involving 25 Year 8-10 students, performed a sophisticated routine choreographed to 'The Schuyler Sisters' from Hamilton and were rewarded with a Gold medal for their efforts.
The Senior Lyrical team performed a delicate routine 'Symphony', successfully seeing off stiff competition from Regent House to attain Gold medals whilst the Senior Dance team, consisting of 24 Year 10-14 students completed a hat trick of Gold medals, by taking the top spot in the Senior Schools' Musical section for their enthusiastic and animated interpretation of 'You Don't Even Know It', from the musical Everyone's Talking about Jamie.
In addition to the team events, individual pupils were entered into the Senior Duet and Trio sections, with Year 13 pupils Samara Radcliffe and Caitlyn Colgan performing a captivating duet and Year 14 students Leah Crawford and Mia McAviney delivering a poignant routine.
Mrs J Neill and Miss R Warnock with the junior dance team
Year 13 pupils Mia Downey, Ruby Bushby and Lauren Bell obtained Gold in the Senior Trio section for a touching routine devised by the girls themselves. The squad, choreographed by Mrs Ruth Cobb (a former pupil of the Academy) and managed by Mrs Jennifer Neill and Miss Rebekah Warnock, has shown commitment and dedication and they have worked really hard throughout the year to develop their skills and compete at a high level.