Charlie Montgomery (17) travelled to Birmingham to take part in the third regional heat of the new-format Apprentice of the Year competition at the Longbridge Construction Centre of South and City College Birmingham.
Charlie was one of 13 apprentices from eight colleges to take part in the six-hour challenge, which requires apprentices to take a complex design on paper and translate it onto a mock wall.
Charlie, who competed in the Junior section of the contest, said: "It's been a challenge, but I've enjoyed the experience and even if I don't win, I'll be coming back next year in the Senior category."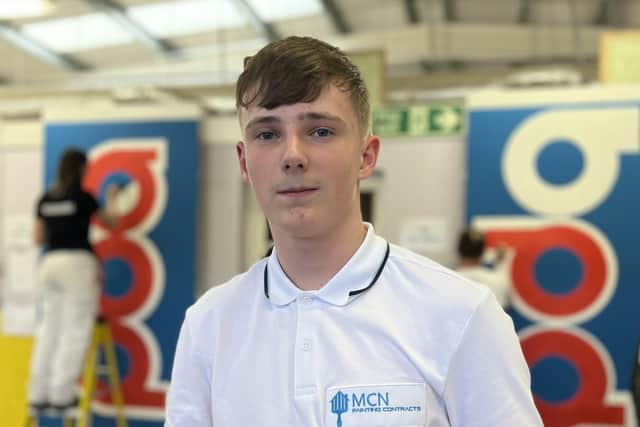 Top-scoring apprentices from the regional heats held in Accrington, Birmingham, Glasgow and Kent, will battle it out in a grand final to be held at Doncaster College and University Centre.
Tutor and assessor for painting and decorating at Workforce Training Services in Belfast, Sandra McMurran said: "It's a big thing for Charlie, but for us as well. To take him to compete against other painting and decorating apprentices is a big deal. This time last year he was still at school.
"My students have inspired me to find as many opportunities for them as possible – they're focused and dedicated to the craft of painting and decorating and they can see the skill and knowledge that is required to achieve quality results.
"The competition is a great opportunity for apprentices to challenge themselves and you can see them striving to do the best they can.
"Charlie was up against some stiff competition, but I'm just proud he has been brave enough to be the first painting and decorating apprentice from Northern Ireland to take part."
The competition is judged by Andrew Davis (Association of Painting Craft Teachers) and PDA Chief Executive, Neil Ogilvie.
Neil said: "Our competition has expanded in recent years, with 75 apprentices entering across the four regional heats in 2023.
"We're delighted to have welcomed Charlie. He's the first entrant to travel from Northern Ireland and we're proud to have been able to give him the chance to network with his peers and really push himself to excel."