Coleraine Grammar School student named as NI Senior Young Scientist of the Year
A Coleraine Grammar School student has been crowned Northern Ireland's Senior Young Scientist of the Year.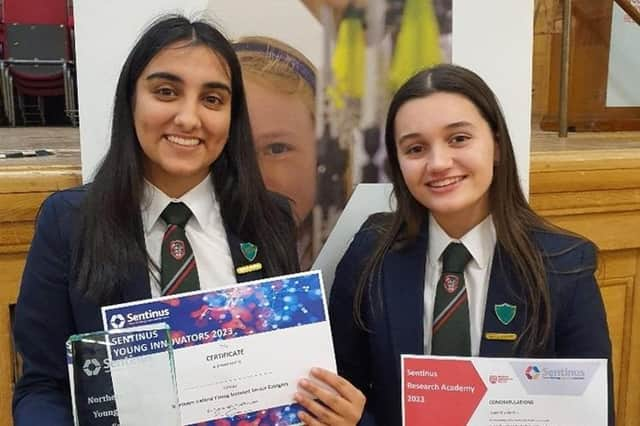 Two of the school's Year 14 students took part in The Sentinus Young Innovators competition. Saashi and Emma pitched their ideas on "An Investigation into the Risk Factors Associated with Cardiovascular Disease".
The girls had embarked on an enlightening journey at the Sentinus Research Academy during the summer. Over four intense weeks, they delved deep into the pivotal factors influencing cardiovascular health: blood pressure, weight, sex, cholesterol and age with our students demonstrating a clear understanding of each factor's implications.
On exhibit day, each participant had their own project display board – miniature stages set for grand ideas. Judges, esteemed in their respective fields, including a medical lecturer from Queen's University Belfast, a biomedical engineer, and a patent attorney, embarked on a rigorous five-round assessment of each project.
Both students presented with poise and clarity but one project stood out for its meticulous research and potential for real-world impact. This project included an optional extension task for which Saashi learned to code.
The optional extension, together with the innovation of a home device to improve circulation by synchronising leg compressions with diastolic heartbeat, earned well-deserved recognition from the academy with Saashi clinching the Senior Science category, crowned Northern Ireland's Senior Young Scientist of the Year.
A school spokesperson said: "We are inspired by such achievements that underscore the importance of research and the pursuit of knowledge. Congratulations to both Saashi and Emma in their ceaseless pursuit of knowledge and to the young innovators who shape our future!"