Clocking up the miles is Joanne McCubbin who is pursuing a Higher Level Apprenticeship (HLA) Foundation Degree in Transport and Supply Chain Management at the South West College Dungannon campus.
Alongside her part time studies as a HLA, Joanne works as a Compliance officer for Manfreight Ltd, a leading logistics, supply chain, and transport business located in Portadown.
Joanne is no stranger to the industry and has enjoyed a successful 18-year career in the transport and logistics sector, but when the opportunity to further her studies arose, she jumped at the chance, recognising it could be beneficial to her both personally and professionally.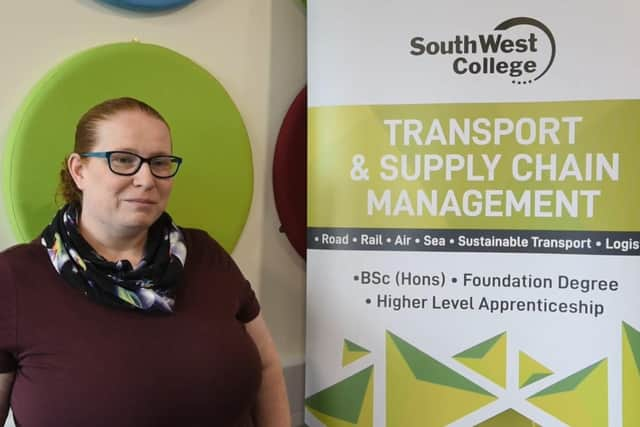 She said: "When I left school, all I wanted to do was drive a lorry, which led me into my current career. I had not thought about furthering my studies until my employer identified this course and offered me the opportunity to study to foundation degree level."
Joanne's desire to further her knowledge in the sector led her to pursue a HLA Foundation Degree in Transport and Supply Chain Management, which was validated by the Open University. Being a parent and having been away from academic pursuits for an extended period, the course's flexibility and support were ideal for Joanne.
Reflecting on the experience, Joanne said: "'The long journeys have all been worth it and I am thoroughly enjoying my studies at South West College.
"We cover an extensive range of topics, from Transport Compliance and Drivers Hours to Warehouse Management, Supply Chain Principles, Sustainable Transportation, as well as Digital Technology, Data Analytics and Statistics.
"This course goes beyond the confines of my workplace, offering me valuable knowledge that transcends beyond the road. It has provided me with a deep understanding of the complexities of transportation and logistics, as well as the skills needed to navigate and manage them, and I am confident it will propel my career in the industry."
In her role as Compliance Officer for Manfreight Ltd, Joanne's studies have been of great benefit. Her role involves ensuring the company adheres to all legal requirements and regulations set in the logistics industry. Joanne has found that her studies have provided her with the necessary knowledge and skills to carry out her role with greater confidence and expertise.
Joanne's success in her HLA foundation degree programme and her role in Manfreight are a great example of how education and career development can lead to positive outcomes. Manfreight is proud of its employee's achievements and is confident that her experience will enhance the company's logistics and supply chain management operations.
Joanne is now in her final year of her foundation degree programme and is hoping to progress onto the BSc (Hons) Degree in Transport and Supply Chain Management, which is due to start this September at the College.
Pamela Dennison, course Lecturer (industry expert) at the College, said: "South West College caters to the needs of mature learners like Joanne, offering a versatile learning environment that fits into their schedule."