With six GCSEs under his belt and an interest in working in the construction industry, Coleraine man Jack explained that while he was keen to continue his studies, he was never a fan of exams.
"When I was doing my GCSEs, I always did better at coursework so felt A-Levels were not for me and went to the College's Open Night to check out my options there.
"I was interested in a career in the construction sector and when I realised that the BTEC Level 3 Extended National Diploma in Construction and the Built Environment consisted mostly of coursework, I decided to enrol on the course at Northern Regional College.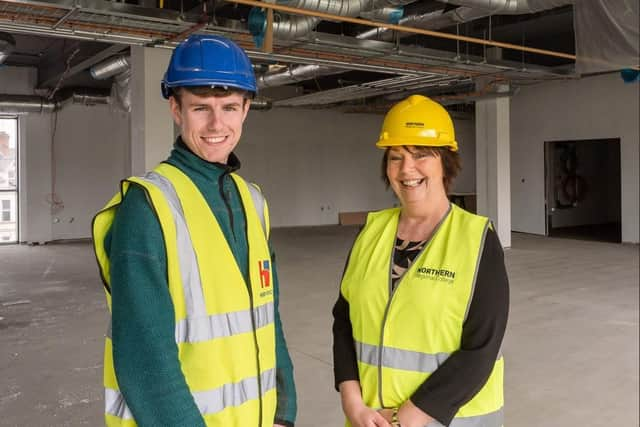 "While it was definitely the right decision for me, I would have no hesitation recommending this course to anyone interested in a career in the construction sector. The lecturers are very supportive, and I found the more informal learning environment conducive to learning. The lecturers are also able to identify and secure placement opportunities to help students get on the right career path."
While he was doing the two year Level 3 Extended Diploma, Jack also achieved a City and Guilds Level 2 Award in 2D Computer Aided Design and has since progressed to do a Foundation Degree in Construction Engineering with Surveying. He is in the third and final year of the Ulster University validated course and can apply the skills and knowledge developed at the College every day in his workplace.
Jack is employed as a second year Higher Level Apprenticeship with Heron Bros and spends four days each week working with the company at the College's new campus development in Coleraine and one day in class at the Ballymoney campus.
As an apprentice site engineer, while working on site, he liaises with the project manager, site manager, senior engineer and sub-contractors. Jack explained what his role involves: "My role includes setting out, levelling and surveying the site, checking plans and drawings to make sure the work commencing on site corresponds with the technical drawings provided by the architects.
"I am also involved in a variety of duties concerning the daily management of the site, such as monitoring the labourers and the work of sub-contractors, as well as attending meetings with clients or surveyors/architects and dealing with any queries or potential problems that could arise."
Jack said he has really benefited from being a student at Northern Regional College: "It was a great opportunity for me to learn about the variety of careers and projects in the construction sector, which in turn helped me have a better understanding of the sort of work I want to do in the future.
"As a second year Higher Level Apprentice with Heron Bros., I can use the knowledge and skills taught in College everyday onsite.
"If you're interested in the construction industry, Northern Regional College is a great place to get a good grounding in the industry and a better understanding of what the different jobs in the sector involve."