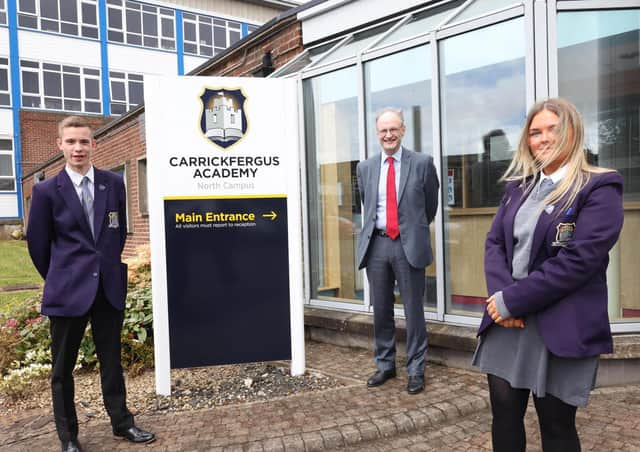 Carrickfergus Academy students Lucas Todd and Enya Clarke with Education Minister, Peter Weir.
Principal, Dr Paula Downing, said the visit offered the opportunity to "raise the school's profile" for a new build.
In a statement, the school added: "The Minister of Education, Mr Peter Weir Mr Sammy Wilson MP and Mr David Hilditch MLA, along with Department of Education officials, visited Carrickfergus Academy on Monday May 10 as part of the launch of a new summer scheme package for young people.
"During his visit, senior staff and members of the Board of Governors were able to meet with the Minister to discuss future capital funding and the drive to ensure a new build for the school.
"In speaking to Mr Weir, [Dr Downing] indicated the importance of ensuring equality of provision in respect to school estate for all post-primary students in Carrickfergus
"Dr Downing also wished to thank local political representatives for their ongoing support in ensuring that Carrickfergus Academy students and staff remain at the forefront of any future Education Authority or Department of Education funding streams."