In collaboration with Translink, the pupils will recreate the sign as part of the Castlerock Tales and Trails project.
Binevenagh & Coastal Lowlands Partnership have been working with Castlerock Community Association on the project which includes ideas to welcome visitors, tell the village story, celebrate its heritage, and make some public realm improvements which hopes to start work in summer 2023.
Many locals and visitors to Castlerock will remember being greeted by the shell sign as they disembarked at the station. The sign is thought to have been installed by a previous station master.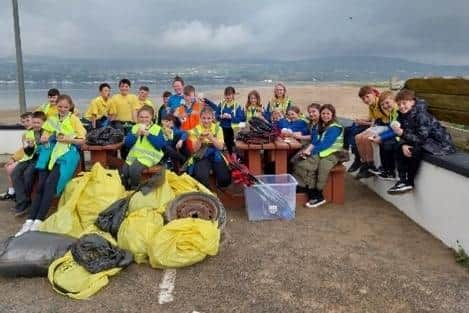 The local schoolchildren not only collected the clam shells, but also learned about responsibility for our environment and took the time to conduct a beach clean.
Mrs McKernan, P6 teacher at Hezlett Primary said: "Hezlett's children enjoyed a fun-filled, immersive learning experience at Magilligan and are excited about being part of Castlerock's heritage."
Melissa McQuitty, Project Officer at Binevenagh & Coastal Lowlands Landscape Partnership said: "Partnership events like this enable us to introduce young people to the outdoor classroom and, on this occasion, involve them in Castlerock's heritage. Connecting children with nature and the landscape is one of the most effective ways of teaching, as children are immensely engaged and have an opportunity to learn in different ways.
"Future projects and events will be undertaken to protect and recognise the outstanding Binevenagh landscape."