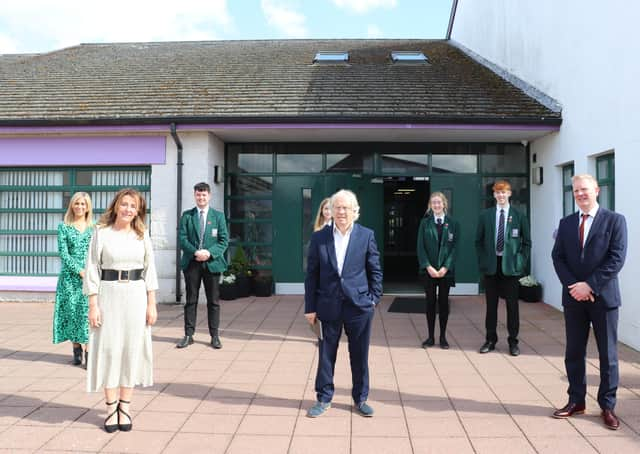 Eamon Maillie visits New-Bridge Integrated College
A spokesperson for the school explained: "As part of our Enrichment Programme in Sixth Form at New-Bridge Integrated College we regularly invite guest speakers to visit and present their stories on 'Life Experiences' to our students.
"We know that our students will benefit from listening to these inspirational and fascinating true life stories that motivate, inspire and broaden our young people's minds."
During his visit to the school, Eamonn recalled his humble upbringing during the 1950s in South Armagh and his exciting journey into the world of journalism.
He spoke passionately about the importance of education and working hard to achieve your dreams in order to help others. His message of 'giving to others' was a very prominent theme and Eamonn interwove this between stories of interviewing Nelson Mandela, Margaret Thatcher, Bill Clinton and other famous public figures.
He also treated the students to a reading from his latest collection poems, 'Under the Tilly Lamp'.
Eamonn advised the New-Bridge students to broaden their horizons, travel and make the most of their talents wisely.
Visiting New-Bridge Integrated College for the first time, Eamonn commented upon the warm welcome he received and the caring ethos which is evident throughout the school.
He praised the Sixth Form students for their maturity and hopes to come and visit the College again.
Head of Sixth Form, Mr Clarke commented: "At New-Bridge Integrated College we pride ourselves on the extra experiences and enrichment we can offer to our Sixth Form students.
"Having real life stories delivered by extraordinary people will help our students grow to be fully rounded young adults and adds an extra dimension to the excellent Sixth Form provision we offer.
"We thoroughly enjoyed and benefitted from the privilege of having such an esteemed guest as Eamonn Mallie
"His wonderful stories about his experiences as a journalist and his philosophies on life, really engaged our students and truly taught them lessons and advice for their future lives.
"We are very grateful that Eamonn took the time to visit us and we look forward hosting him as our guest again in the future."