NI Hyatt wins grant for local Arabic and English language classes
Local refugee and migrant support organisation NI Hyatt has won £2,500 PEACE IV money through the British Red Cross PRISM Project.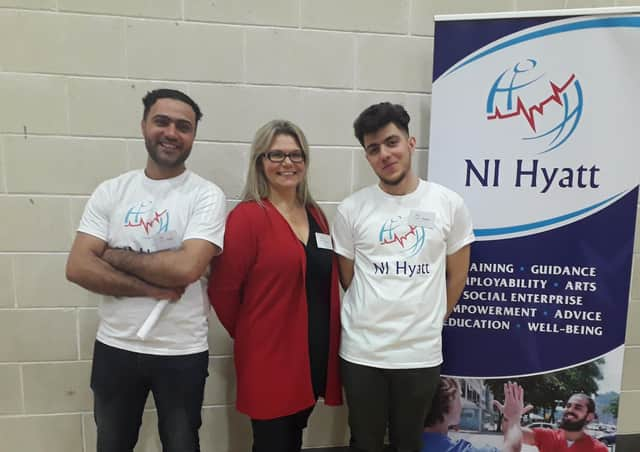 NI Hyatt will use the PEACE IV money to offer English and Arabic classes for people in the wider Craigavon area who would like to learn either language.
The classes will be held every Saturday from 10am to 1pm at the Social Enterprise Hub building in Lurgan.
Mazen Haseno, Director of NI Hyatt said; "Our organisation is all about bringing people together and helping newcomer families integrate with the local traditional communities.
"The team is so grateful to all who attended; the tireless volunteers and artists, speakers and dancers who made the launch event such a great success.
"People from the refugee community, our neighbours, friends and representatives from local government and other community groups have all shown valuable support to our initiatives so far.
"A special thanks to Dolores Kelly MLA, of the Upper Bann District, who opened the day with her welcoming words. Thanks to the PEACE IV funded PRISM project who supported the launch event and a series of workshops we are rolling out. Everyone is welcome to take part."
Red Cross PRISM project manager Gemma Robinson added: "We're seeing so much more integration across new and traditional communities in Northern Ireland through the PRISM project.
"NI Hyatt's work is a perfect example of how the PEACE IV grants are working to create new experiences for people to make new friendships and understand each other's cultures better.
"We have five grants worth £2,500 each left for groups working to improve relationships between different cultural groups across Northern Ireland, including those in the Craigavon area. If you're interested in learning more please contact Mollie Drew on [email protected]"
Anyone interested in reading the report produced following NI Hyatt's focus groups with the refugee community in the local area can request a copy by emailing [email protected]