Northern Regional College students are going for gold!
Northern Regional College will have eight apprentices and students going for gold in the national finals of the 2023 skills competitions later this month.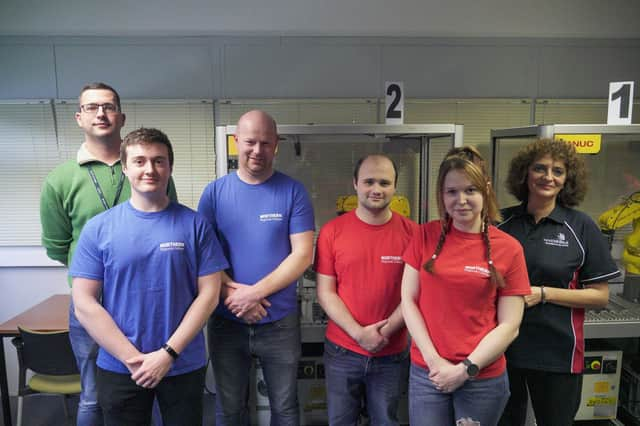 The College will be represented in the six different skills areas: Industrial Robotics, Mechatronics, Plumbing, Welding, Joinery and Carpentry.
The finalists are Hannah Currie and Peter O'Neill (Industrial Robotics); Canaan Carleton and Kyle Davidson (Mechatronics); Morgan Finney (Plumbing); Jamie McArthur-Gill (Welding); Jamie Matthews (Joinery); and Bailey Gibson (Carpentry).
The national finals are the culmination of a series of regional competitions held across the UK earlier this year when the apprentices and students battled it out to secure their spot among the top eight highest scoring competitors in their respective skill area.
The skills competitions assess competitors' technical skills and knowledge against a set criterion in a competitive environment. They are designed by industry experts to help young people grow personally and professionally by developing their technical and employability skills. The competition-based development programme is proven to upskill and improve employability with over 90% of competitors saying their employment prospects had improved as a result taking part in the competitions.
The WorldSkills UK national finals which will include the Industrial Robotics, Mechatronics, Plumbing and Welding competitions, will take place in Manchester, November 14-16. The Carpentry and Joinery competitions will be held as part of the SkillBuild UK national finals will i be in Milton Keyes, November 21-23.
Congratulating all the finalists, Gordon Kane, Curriculum Area Manager for Engineering and the College's Skills Champion, said securing a spot in the final of a national skills competition was a significant milestone for the young people involved.
"This is a significant milestone and will be a great addition to their CVs. It is a reflection, not only their skill, but their commitment and dedication. The finalists are great role models for their peers and wonderful examples of the skills and talent inherent to the young people here at Northern Regional College and I wish them all every success," he said.
Northern Regional College students and apprentices have been among the medal winners at previous national skills competitions, winning gold and bronze in the Industrial Robotics category last year and gold, silver and bronze in the same skills category in 2021. In recent years, the College also had medallists in 3D Digital Game Art and Carpentry.