This Autumn, the UK is set to make a triumphant return to compete at EuroSkills, Europe's largest skills event, which is taking place in Poland for the first time.
Team UK – which heads to the EuroSkills Finals in the Polish city of Gdańsk from 5 - 9 September – will comprise of 20 elite apprentices and students skilled in a broad spectrum of disciplines from engineering to construction, digital to creative. Following success at last year's international WorldSkills event, the UK will compete in Robot Systems Integration and Digital Construction for the first time at the European Competition.
Governments and industry will be watching with interest to benchmark how well Team UK performs compared to the country's main European competitors. At the event, 600 skilled young professionals, under the age of 25, from 32 member countries including Germany, Switzerland and France will compete.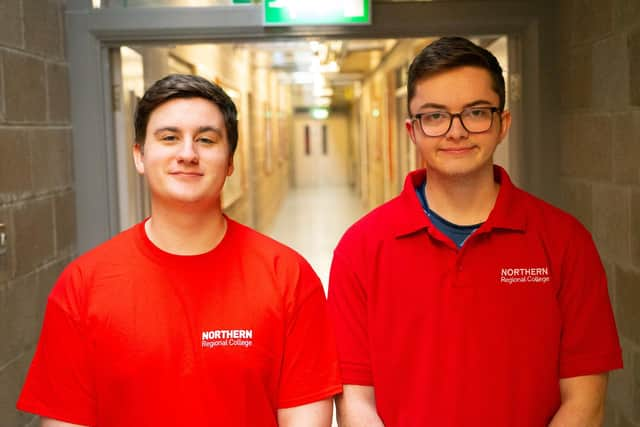 Over 100,000 spectators from across Poland and Europe are expected to attend this year's finals, after the event faced disruption in recent years due to the pandemic.
Among Team UK are Charlie Carson and Jason Scott, second year Foundation Degree students at Northern Regional College in Ballymena studying Mechanical and Manufacturing Engineering and Electric and Electronic Engineering respectively.
Having picked up the gold medal in the Industrial Robotics category at the WorldSkills UK National finals in 2022, they hope to continue their winning performance at the EuroSkills.
Charlie Carson, who is from Ballymoney, said competing in WorldSkills has been a great learning experience and securing a place on Team UK at the EuroSkills has made his journey even more remarkable.
He continued: "I'm so excited to represent Team UK at the EuroSkills, and to be a part of the team to compete for the first time in Robot Systems Integration at this European Competition makes it even more special.
"Both myself and Jason have learnt a lot of new skills from the previous stages of the competition and from our experienced and supportive lecturers. We look forward to getting the chance to put these into practice as we prepare to compete at the EuroSkills.
"Taking part in the WorldSkills competition has been a truly great experience. I have been on an incredible journey and don't want it to end! I would encourage anyone who is considering taking part in the WorldSkills competitions next year to jump at the opportunity, hard work and dedication is essential but the rewards and invaluable experience makes it all worthwhile."
Ben Blackledge, Interim Chief Executive, WorldSkills UK, which selects and trains Team UK to the highest international standard said: "This will be a life-enhancing opportunity for Charlie and Jason and I wish them the best of luck. They and the rest of team are the embodiment not only of the characteristics that we should aspire for in a young workforce, but for the UK Government's ambitions for Global Britain too."