The pupils from St James's Primary, Whitehouse Primary and Hazelwood Integrated Primary met with CCEA Chief Executive, Gerry Campbell and Temporary Director of Curriculum and Assessment, Corinne Latham, as part of the global initiative aimed at inspiring and celebrating outdoor play and learning.
Gerry and Corinne visited St James's Primary with Whitehouse Primary also in attendance as part of the schools' shared education programme.
Paula Cunningham, Principal of St James's PS, along with teachers and pupils, demonstrated some play-based lessons that take place at their 'Forest School', which covers multiple areas of the NI curriculum.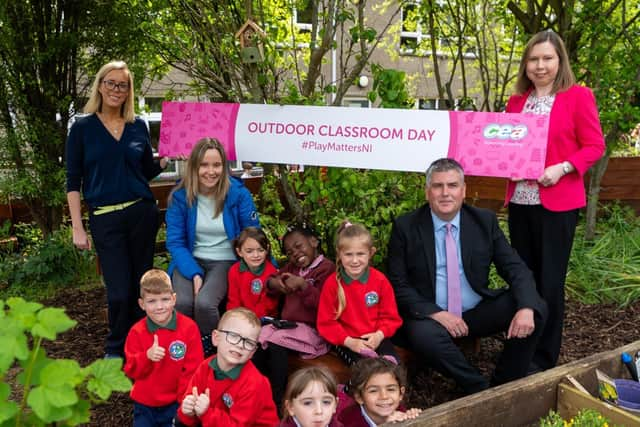 Gerry said: "Outdoor Classroom Day reminds us of the benefits of learning outdoors which supports the wellbeing and development of young children.
"It's inspiring to see local schools take advantage of their surroundings and use outdoor facilities to connect with nature and explore the world around us. It was clear to see how joyful the children were when taking part in outdoor learning."
Dawn Blain, Principal of Whitehouse Primary highlighted the importance of learning outdoors and learning through play, adding: "We find that in addition to developing problem-solving and social skills our pupils increase their sense of adventure and love for nature."
Gerry and Corinne then visited Hazelwood Integrated Primary which delivers a significant proportion of lessons outside and in their 'Forest School.'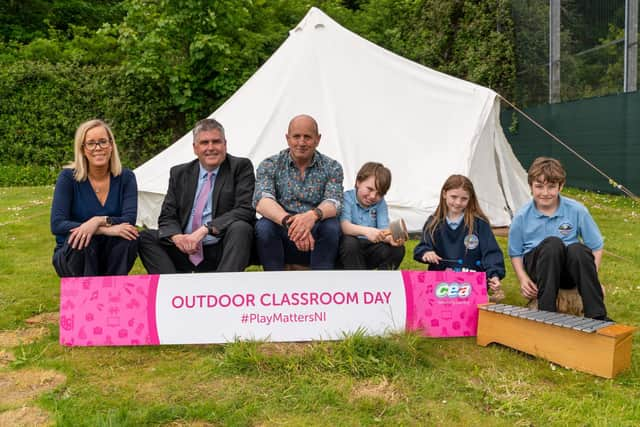 Principal Jim McDaid and the teachers and pupils highlighted the importance of how nature and the outdoor environment can enhance the skills of young people.
For more information about the initiative, click here