Involving over 90 competitors, SkillBuild NI 2023 is designed to test skills, technique, and ability within tight timeframes. It identifies the top performers in 11 different trade areas within construction apprenticeship programmes from across Northern Ireland - showcasing the wealth of talent and professionalism throughout the industry. SkillBuild is supported by the Department for the Economy and local construction companies.
Six of the thirteen strong SERC team lifted first, second and third place in Fire & Security, first and second place in Furniture and Cabinet Making and third in the Electrical Installation competition.
Matthew Blair (Ballinderry Upper) took first place in Fire & Security, Jack Matthews (Lisburn) took second place in Fire & Security, and Taylor Rollo (Newtownards) took third place in Fire & Security.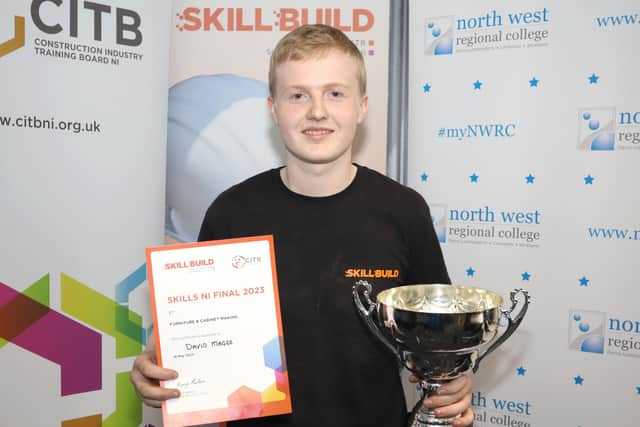 David Magee (Hillsborough) took first place in Cabinet Making, and Taylor Simpson (Lisburn) took second place. Cameron Gorman (Bangor) was placed third in Electrical Installation.
Ken Webb, Principal and Chief Executive of SERC said, "We are delighted for all the SERC students and apprentices who secured wins at SkillBuild 2023 and for everyone who reached the finals. We wish them all continued success.
"Competitions such as SkillBuild allows our students and apprentices to showcase their skills, knowledge and professionalism and reflects the high standards of teaching and mentoring at SERC."