Purple Plaque unveiled for past pupil innovator at Coleraine Grammar School
A Purple Plaque has been unveiled at Coleraine Grammar School to mark the success of a past pupil who was last year named winner of a major innovation award.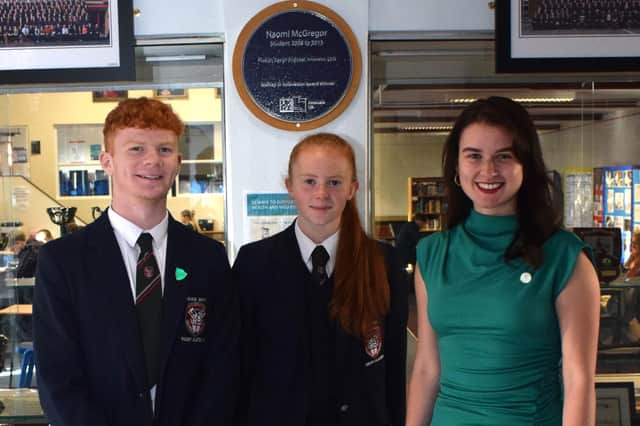 Coleraine High School past pupil Naomi McGregor is a Ballymoney tech entrepreneur who was last year named winner of the Innovate UK Women in Innovation Award.
Naomi is the creator of Movetru, a wearable technology solution for athletes that accurately tracks movements in real time, providing key data to help improve performance and reduce both injury rate and recovery time.
Winning the prestigious award in 2022, Naomi received a cash injection of £50,000 for her business as well as specialist mentoring and coaching to scale up and bring her product to market.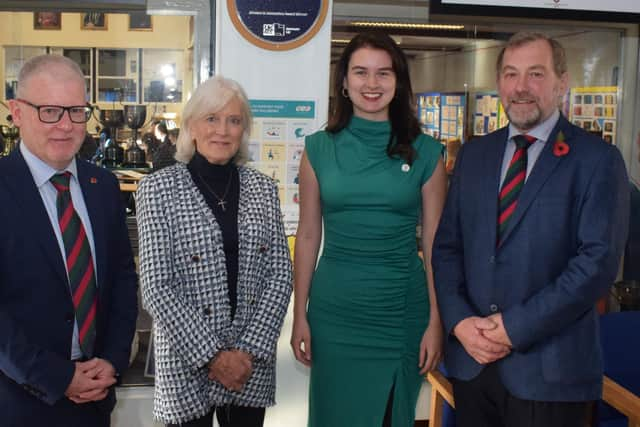 Pupils and staff joined Naomi at the school's Castlerock Road campus this week to officially unveil her plaque. Purple Plaques have been erected across the UK to celebrate the achievements of Women in Innovation Award winners and inspire more girls into careers in Science, Technology, Engineering, and Mathematics (STEM).
Headmaster Dr David Carruthers said: "As a school community we are all immensely proud of Naomi's achievements. As a successful entrepreneur and winner of the Women in Innovation Award, Naomi is a great role model for all our pupils, and in particular girls at this school considering a future career in STEM."
Naomi said: "It's an honour to be able to come back to Coleraine Grammar School this week. I trust this purple plaque will continue to highlight the importance of STEM across the school and inspire the next generation of engineers, scientists, and entrepreneurs."