The Award for Best NI Project went to student Cara Colvin (18) from Crumlin, a student on the BTEC Level 3 Extended Diploma in Science at SERC's Lisburn Campus for her study on How Cigarette Smoke Causes Scarring of the Lungs.
The young woman also took second place in the Senior Individual Biological and Ecological category for her project.
"I am so pleased that I won and happy that all my hard work paid off," said Cara. "I am also very proud of the other students that were there with me, they have all done so well. The experience was amazing and I'm so lucky to have had the chance to go.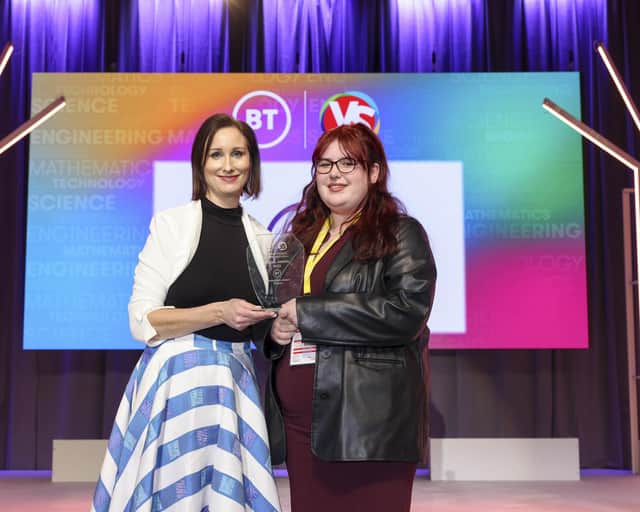 "My dad is delighted to see me follow in his footsteps – he is a scientist with Randox - and there is a bit of banter between us about who will be the first to have two PHDs. He has one, and I have a bit to go yet, but it is certainly my aspiration. I have applied to do the HNC in Applied Science here at SERC and then hope to go on and do a degree in Biomedical Science."
The College was delighted to win the Best NI School Award 2023, which recognises the overall work by SERC science students across all projects.
Dr Susan Stokesberry, SERC Science lecturer, said, "The level of competition was very high this year, but we were confident with our projects and the work that went into them, and of course we are delighted with the results."
In addition, SERC students Natali Arnaudova (19) from Lurgan and Taneesha McCaughran (18), from Newtownabbey were Highly Commended in the Senior Group Biological and Ecological Category for their project on Studying the Effect of Hypoxia on the Long-Term Activation of the Fibroblasts in the Development of Pulmonary Fibrosis.
A total of four Level 3 National Extended Diploma in Applied Science students' projects from the College were selected for the annual competition this year for the Biological and Ecological category including Testing Aspirin Using an IR Spectrometer by Jake Stothers (18) from Bangor.