That was the view of the Permanent Secretary of the Department of Education, Dr Mark Browne as the start of the major construction programme was officially marked this week.
Speaking at Monday's sod-cutting ceremony, Dr Browne said: "This is a momentous day for everyone at Islandmagee Primary School which marks the start of a very exciting programme of construction.
"The significance of this £5.4million investment will be reflected in the many opportunities and benefits it will deliver for the whole school family."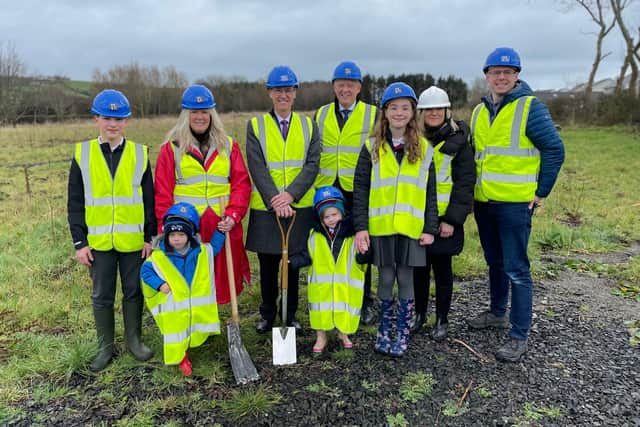 "The principal, governors, staff and construction and design teams have worked incredibly hard to progress this new build to this stage.
"The new school will breathe life and energy into the whole community and will provide a modern learning environment in which teachers, staff and pupils will thrive."
McAdam Design ist the integrated consultant team on the project with Martin & Hamilton Ltd appointed to carry out the construction work.
Split Campus
Arlene Cambridge, principal of Islandmagee PS, said: "On 15 March 2016, the Minister for Education, announced a new school build for Islandmagee Primary School. Following amalgamation, we opened in September 2016 and since then, our school has continued to grow and thrive despite the challenges brought about by a split campus.
"We have worked tirelessly together with the authorities to get us to this exciting stage in our journey and seeing the first sod cut and construction begin.
"I believe that the pupils, dedicated staff, governors and indeed the whole Islandmagee community, very much deserve the new state of the art building and facilities. Everyone will benefit immensely from this new, modern, energy efficient school building and we will all be together in one place."
It is expected that construction will be completed in May 2024.
Islandmagee PS was established following the merger of Kilcoan Primary and Mullaghdubh Primary into a single controlled school, operating across both sites. The schools had been operating out of buildings which were approximately three miles apart and also over 100 years old.