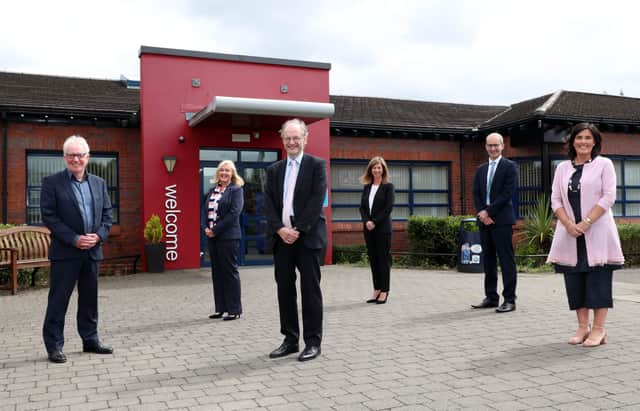 Education Minister Peter Weir with the expert panel established to examine the links between educational underachievement and social disadvantage. Photo by Pacemaker.
That's the view of East Antrim MLA Roy Beggs, who has also called on the community to support the work of the body established by Education Minister Peter Weir.
The Ulster Unionist representative recently reminded the minister that parts of Larne had the highest proportion of less than 85% attendance at school of any ward in Northern Ireland.
Mr Beggs said "I have been raising the very real issue of educational underachievement within some disadvantaged communities and the unacceptable high levels of absenteeism for several years.
"I welcome the appointment of the expert panel and would urge the schools, parents and the local community to work together to improve the life-time opportunities of young people from Larne that can come from all recognising the value of education.
"Some of the statistics given to me in a recent Assembly answer on absenteeism in parts of Larne are quite stark and showed that the Ballyloran ward had Northern Ireland's highest proportion of post primary school pupils with less than 85% attendance at school (Ballyloran ward 43%; Antiville 27%; and, in Craigy Hill 27%; Blackcave ward 25%)."
The panel has been established under the 'New Decade, New Approach' agreement which set out the requirement for an expert group to examine and address links between persistent educational underachievement and socio-economic background, including the long-standing issues facing working-class, Protestant boys.
In 2017/18, only 48.6% of free school meal entitled (FSME) school leavers achieved the benchmark of five or more GCSEs (A*-C), including English and Maths. While this figure has increased by over 22% in the last 12 years, the equivalent for non-FSME school leavers was 78.1% with a 19.6% increase over the same period.
The panel will engage with organisations which have experience of the issues associated with educational underachievement. This includes parents and children as well as the wider education sector, government, the voluntary and community sector, business representative organisations and the Northern Ireland Commissioner for Children and Young People.
In his question in the Assembly Roy Beggs asked the minister: "Can you assure me that the panel will have full access to all your departmental officials and the support and cooperation of other relevant departments so that we can get to the bottom of the wide range of issues that contribute to educational under attainment - weak community infrastructure and the need for long-term community support; limited numbers of educational welfare officers and their limited powers; and limited early years provision - and thereby address educational underachievement in communities?"
In response, Mr Weir said: "The member raises a very useful wider point, which is one of the reasons why, for balance, those from a community background are included. It is not simply about what happens in the classroom and at home. It is about creating a wider culture of a desire for education and support for education. That is critical.
"The panel will have complete access to anything within Education. Within my remit, there will be no closed doors, and, indeed, there will be support from the secretariat side, which will not require a large amount of people. I think that three members of departmental staff will be working directly on it to provide any administrative backup. If there are any questions that they want to ask, they will be free to look in any door in the department.
"I cannot give the assurance for any government agencies beyond the Department of Education, but I cannot see any reason why there would be any obfuscation or blocking from any other government body or department."
Mr Beggs, who is committee member of Horizon Surestart, which provides early years support and assistance to parents, went on to emphasise the importance of involving all stakeholders in the engagement.
He said: "Parents, schools and the local community all play a vital role in helping our young people reach their full potential. I am pleased that the Minister of Education has acknowledge this and I look forward to engaging with the panel as they develop proposals to address under attainment."